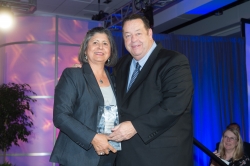 San Diego, CA, September 13, 2017 --(
PR.com
)-- The National Association of Community Health Centers (NACHC) has honored Irma Cota, President and CEO of
North County Health Services
(NCHS) in San Marcos, CA, with the 2017 Outstanding Achievement Award. The award honors outstanding community health leaders and advocates for the medically underserved. It was presented at the 48th annual NACHC Community Health Institute & EXPO (CHI) in San Diego, CA, a national conference attended by nearly 2,000 community health leaders from across the country.
"Ms. Cota has brought to her leadership a vision and unwavering dedication to the medically underserved. She understands that health care is a right and not a privilege," said Ricardo Guzman, Immediate Past Board Chair of NACHC during the award ceremony.
This moral mandate guides her work leading a multimillion dollar nonprofit corporation that serves nearly 65 thousand people at 13 clinic locations and 2 mobile units – providing comprehensive medical, dental and mental health, as well as, health education and social services. Under Ms. Cota's leadership NCHS has been the recipient of numerous awards for excellence, not just in health care delivery but also in creating a workplace that is an enviable model for others to follow."
Under her leadership for the past 11 years, Ms. Cota has grown the operational budget from $12 million to $72.50 million. She has also orchestrated the opening of more than 10 new health centers across NCHS's service areas, providing comprehensive and specialty services to the medically underserved. NCHS has also grown to employ 745 people.
In remarks during the award ceremony Ms. Cota spoke about the need to educate the next generation of healers, saying, "We must just not continue to sustain and grow our system. We must also identify the next generation of leaders to ensure the movement will flourish. Light another candle that so that fire will not diminish your light."
America's Health Centers are local, non-profit, community-directed and federally-supported organizations that provide quality health care to over 27 million people in nearly 10,000 locations. One of the bright spots in America's healthcare system, health centers started more than 50 years ago as a pilot project during the
War on Poverty
and has now become the largest primary care system with a longstanding record of bipartisan support. Health centers also generate $24 billion in annual health system savings by reducing unnecessary hospitalizations and unnecessary visits to the ER.
To find out more about the mission and accomplishments of health centers please visit
www.nachc.org
.
About the NACHC
Founded in 1971, the National Association of Community Health Centers (NACHC) is a non-profit organization whose mission is to enhance and expand access to quality, community-responsive health care for America's medically underserved and uninsured. NACHC represents the nation's network of the nearly 1300 Federally Qualified Health Centers (FQHCs), which serve over 27 million people through over nearly 10,000 communities located in all of the 50 states, the District of Columbia, Puerto Rico, the U.S. Virgin Islands and Guam. Learn more about NACHC at www.nachc.org.