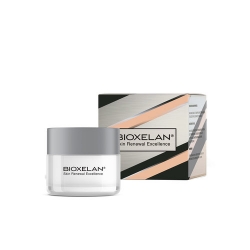 Emeryville, CA, September 21, 2017 --(
PR.com
)-- Today cosmetic industry is booming and anti-aging products make up a significant portion of the market. Thanks to innovation and scientific advancements the newest products of this kind are better, more effective and more affordable.
Two main groups of agents are used as components in anti-aging creams. These are cell regulators, and antioxidants. The antioxidants reduce collagen degradation, while cell regulators have direct effects on collagen metabolism and boost collagen production.
Bioxelan Skin Care Company, based in Emeryville, California, is going to launch their first anti-aging product within couple of days. The product is called Bioxelan Skin Renewal Excellence and will be sold in 50 ml jar. Product's formula contains natural ingredients as Hydrolyzed Elastin, Aloe Vera Gel, Extract of Rosemary, Green Tea Extract and Apricot Kernel Oil. Hydrolyzed Elastin is a natural moisturising and conditioning ingredient that helps skin cells to attract and retain moisture. It is mainly used for healing damaged skin, as well as smoothing and softening. The Rosemary Extract increases elasticity, thus decreasing skin aging and wrinkles.
They manufacturer's official website describes Bioxelan as a fast-absorbing cream with soft consistency, suitable to all skin types. Its upgraded formula reduces wrinkles and deep expression lines, restores skin's suppleness and firmness and contributes skin's regeneration.
Releasing the product, Bioxelan company hopes to get good reviews from all clients.