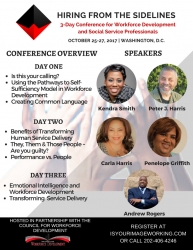 Washington, DC, October 10, 2017 --(
PR.com
)-- Sponsored in part by the Salvation Army National Area Command, under the banner "Humanizing Human Services," the inaugural conference takes place October 26-27, 2017, at the Thurgood Marshall Center in Washington, D.C., 1816 12th St NW, Washington, DC 20009. The conference is a project of ImageWorks Consulting Firm, in partnership with the Council for Workforce Development, and is "tailored to those who work in human services, and specifically, workforce development," according to Carla Harris, ImageWorks CEO.
"In what we call a transformational approach," Harris says, "Hiring from the Sidelines seeks to help Workforce Development professionals to move into creating an environment, an ecology, that focuses on bringing humanity back to human services. And, following the conference, attendees will be able to participate in two post-conference webinars for more intensive training."
"We have to get people back to work," says Major James Hall, Area Commander, Salvation Army National Area Command. "In the area of Workforce Development, our mission is tied together with ImageWorks' vision. This is why the Salvation Army decided to partner with ImageWorks on this conference." Harris says that human services professionals must move "beyond the data" into a more "dynamic focus on people first," as part of a Workforce Development approach that "blends the technical and practical with the creative and supple."
"A job is important, of course, even an entry-level job!" Harris concedes. "But for that job to become a stepping stone to a better life, a more solvent future, case managers, program facilitators, trainers, social workers, job coaches, developers, even agency directors and policy-makers, must all take the time to value and incorporate the personal histories, family stories, of marginalized job seekers, so that their searches for employment become part of a powerful process that builds their capacity to map plans for their self sufficiency."
Hiring from the Sidelines is sponsored by ImageWorks Consulting Firm, LLC; the Salvation Army National Area Command; Inspiration House; Skyland Workforce; and City First Bank.