Winter Park's Masterpiece Design Group Captures 5 Major Awards for Merchandising Excellence at 34th Annual Greater Orlando Home Builder Event
The full-service design firm which has been serving the nation's home building industry for nearly two decades won top honors for projects in the Greater Orlando, Tampa and Sarasota markets.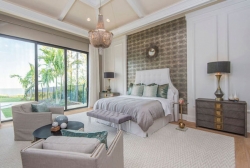 Winter Park, FL, October 10, 2017 --(
PR.com
)-- After wowing judges earlier this summer at the Southeast Builder's Conference in Orlando, Masterpiece Design Group (MDG) followed that up with an even more impressive showing at last month's Major Achievement In Marketing Excellence Awards (MAME) event by capturing five major awards.
Masterpiece, which has been serving the nation's homebuilding industry for nearly two decades, dominated the Greater Orlando Home Builder's Association's 34th annual showcase by sweeping all five awards in the Model Merchandising Category for its design work on projects in the Greater Orlando, Tampa and Sarasota markets.
The full-service Winter Park firm, which won a prestigious Grand Aurora and two separate Auroras for design excellence at the SEBC in August, rode that momentum into this year's MAME competition. Masterpiece, now in its 19th year of operations, won top honors in the following Model Merchandising single-family categories:
$1.5+ million – The Villa Calabria model at Bella Collina located in Monteverde in Lake County about 30 minutes from downtown Orlando;
$1 million-$1.5 – The Martin model at Artistry located in Sarasota;
$500k-$1 million – The Van Gogh at Artistry;
Under $500K -- The Verona at the 55+ active adult community of Bridgewater Landing in Riverview about 15 miles southeast of downtown Tampa.
Completing its sweep, Masterpiece also garnered a MAME in the multi-family home category for its work on the Chatham model at Starkey Ranch, a 2,400-acre, master-planned community of 5,050 homes in Odessa in Pasco County.
The Villa Calabria and Van Gogh models by Masterpiece were big winners at the SEBC, one of the nation's largest trade showcases for hundreds of the best and most distinctive designs from builders and industry professionals from 11 Southeast states and the Eastern Caribbean. The Villa Calabria earned a Grand Aurora for Interior Detailing/$1 million - $2 million Single-Family Category while the Van Gogh captured an Aurora in the Best Interior Merchandising/$500K-$1 Million Category.
According to Masterpiece President and CEO Christy Scanlon, this was one of the best years in the company's history for awards and national recognition. With this year's showing at both the SEBC and MAME, Masterpiece has now won nearly 60 industry awards for its design and merchandising efforts.
"There's no question that we have set a high bar for ourselves as we look ahead and move forward to the next set of challenges our builder client present us," she says. "We are extremely delighted with our awards from both the SEBC and MAME events because they underscore that our design and merchandising efforts have been instrumental in our clients' overall sales and marketing success."
Scanlon also takes great satisfaction that the awards from this year's MAME competition represent three of the state's largest markets "which presented unique and distinctive design demographics for the Masterpiece design team."
"Our primary objective – particularly in the area of Model Merchandising – is to not just make the homes we design look appealing and captivating but also help drive sales," she says. "If we're successful doing that, we're doing our job. The awards and outside recognition are simply an added bonus."
Since its inception as a small, home-based business in 1998, Masterpiece has become one of Florida's premier full-service design companies with a diverse clientele in most of the state's major metro markets, including Orlando, Tampa, Sarasota-Bradenton, Jacksonville and south Florida, as well as key market areas in the Southeast and Midwest.
The company has provided professional design and model merchandising services for a long line of industry leaders, which include Phoenix Companies, Kolter Homes, Park Square Homes, Lifestyle Homes, GL Homes, Dream Finder Homes, Greenergy Homes, Dostie Homes, Royal Oak Homes, AV Homes, Lennar Homes, M/I Homes and Chicago-based Crown Development Group.
Contact
John Jolinski DBA JHJ Communications
John H. Jolinski
407-281-0074

Contact