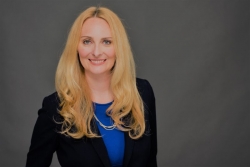 San Diego, CA, October 24, 2017 --(
PR.com
)-- Corrie B. Poppe, BS, ACP of San Diego, California has been recognized as a Professional of the Year for 2017 by Strathmore's Who's Who Worldwide for her outstanding contributions and achievements with over 15 years experience in the field of law.
About Corrie B. Poppe, BS, ACP
Ms. Poppe is a Paralegal who has worked for many well-known law firms and attorneys who practice in all areas of law, including prominent Certified Family Law Specialists. She has had extensive experience working in all aspects and areas of law and litigation with attorney's and clients for over fifteen years. She has knowledge in dissolution mediation as she was partners with a Certified Family Law Specialist in a mediation center. Corrie is currently working with attorney Bruce G. Schwartz, located in Newport Beach, California. She oversees and performs all the in-office duties. Mr. Schwartz often states, "There is no way my practice would be successful and run so smoothly without Corrie. She is amazing."
Ms. Poppe has been recognized as a Pinnacle Professional Member by Continental Who's Who and the 2015-2016 VIP Woman of the Year by the National Association of Professional Woman. "Women of Distinction Magazine" has chosen her as the Distinguished Professional for the field of Paralegals for 2016 and one of the Top 10 Distinguished Professional for the field of Paralegals for 2016. She was also featured in "Town and Country" magazine.
Corrie Beth Poppe was born on May 7, 1981 in Truckee, California. She began her educational plan in San Luis Obispo, California while attending Cuesta College and CalPoly University. After graduating she relocated to San Diego. Corrie continued her studies concentrating on the legal profession and received her degree in paralegal studies. She is a National Certified Paralegal and also holds an Advanced Paralegal Certificate in Trial Practice, and Family Law - Dissolution Case Management. She is currently obtaining her Advanced Paralegal Certifications in Business Organizations: Incorporated Entities, Family Law-Child Custody, Child Support, Visitation and Family Law - Division of Property and Spousal Support which will be completed by November, 2017.
Corrie has a wide variety of interests, both in and outside of the legal profession. She is a member of the National Association of Legal Assistants, the California Bar Association, the San Diego Bar Association, the San Diego Paralegal Association, the California Association of Legal Document Assistants and the San Diego Legal Secretaries. She is also affiliated with the American Kennel Club, the Golden Retriever Club of America, the National Notary Association, the Multiple Sclerosis Association of America and the National Multiple Sclerosis Society. Ms. Poppe has been raising money for the research of Multiple Sclerosis and for those who are unable to afford medication and doctors since her diagnosis of Multiple Sclerosis in 2007. She volunteered with Voices for Children as a Court Appointed Special Advocate for dependents in San Diego.
One of Corrie's most enjoyable hobbies in her spare time is her involvement with the breeding of English Cream Golden Retrievers. She breeds these dogs specifically as service dogs and family dogs. She also enjoys spending time with her friends and family. Corrie is always interested in trying new and interesting things in life. Primarily, her passion is to help those less fortunate and in despair to navigate the judicial system.
Ms. Poppe states, "As a paralegal, it is my responsibility to handle much of the paperwork, such as letters, motions, and briefs, all of which require a strong writing ability, research skills, and an ability to relate to others. Equally important is being available to the clients 24/7 when they have questions or concerns or just someone to make them feel better while going through their ordeal." Dedicated to making a positive difference for her clients, Corrie enjoys the level of success and satisfaction she receives from her clients.
About Strathmore's Who's Who Worldwide
Strathmore's Who's Who Worldwide is an international advertising, networking and publishing company based in Farmingdale, New York. They are proud to be able to satisfy their clients and continue to have repeat clientele due to their longevity and pride in their products and services. The Owners strive to connect business professionals to enhance their contact base and networking capabilities so they can get the acknowledgment and publicity within their industries and beyond. The Strathmore family has been providing these valuable services for over two decades. They target executives and professionals in all industries to be featured in their publication and on-line directory. Industries include business, law, education, healthcare and medicine, fine arts, IT, government, science, real estate, entertainment and many more accomplished fields. Professional profiles are listed in an annual hardcover journal and in a detailed, searchable database on the website www.strww.com.