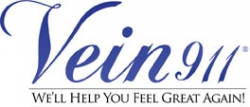 Tampa, FL, October 23, 2017 --(
PR.com
)-- Vein911 announced today that it recently hosted an Investment in Discovery event for the University of South Florida Morsani College of Medicine and Heart Institute's Downtown Expansion. The event was held on October 11 at the construction site of the new building. Dr. Charles Lockwood, Senior Vice President, USF Health and Dean, USF Health Morsani College of Medicine, briefed over 100 business and community leaders on the downtown expansion of the medical school and heart institute. Those in attendance were provided with an exclusive preview of the most recent architectural elevations of the anchor building of the new Water Street Tampa district.
The University of South Florida Medical School has recently been described as the most selective medical school in the state of Florida, receiving over 6,000 applications this year for just 175 spots. The medical school expansion is focused within Tampa's downtown corridor and is estimated to cost over $153 million. The medical school is the initial development project of Water Street Tampa, a 50-acre, $3 billion redevelopment project led by Strategic Property Partners.
"Vein911 was honored to be asked to help with the outreach for this significant undertaking," said Dr. Chris Pittman, Medical Director and CEO of Vein911. "The expansion of the USF Medical School into Tampa's downtown corridor will reshape our community and establish Tampa Bay as a center of innovation for the healthcare industry." Dr. Pittman is an Affiliate Assistant Professor and Alumni Society Board member, USF Health Morsani College of Medicine.
About Vein 911
The Vein911 name is a call to urgent education about venous and lymphatic disorders and their effects on health and wellness. Vein911 is a leading provider of care for the medical and cosmetic treatment of varicose veins, hand veins and spider veins. Many are unaware that vein disease is a leading cause of ankle swelling, restless legs and night cramps. Our quality care vein treatment centers offer state-of-the-art technology, comfortable surroundings, and a world-class patient experience. All of our procedures are non-surgical and include Endovenous Laser Treatment, Ultrasound-Guided Foam Sclerotherapy, Visual Sclerotherapy and VeinGogh. Vein911 is the varicose vein and spider vein treatment center of choice for physicians and their patients. Our vein treatment centers are conveniently located throughout the Tampa Bay area and are led by board-certified physicians. Schedule an appointment today at 855-834-6911.