Bridge Structural Deficiencies Exacts an Untold Human Toll - IPC Has an Answer
Infrastructure Inspections including bridge inspections new geophysical nondestructive (NDT) inspection technology brings faults to light before they threaten human life, and dramatically reduces repair costs.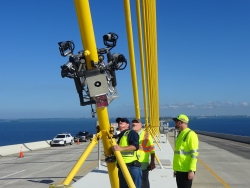 New York, NY, October 24, 2017 --(
PR.com
)-- During the evening rush hour of August 1, 2007, a bridge supporting one of the busiest freeways in Minnesota unexpectedly collapsed, taking the lives of 13 people and injuring 145 more.(1) To many leaders at the time, the Interstate 35W bridge disaster served as a wake-up call to the country's deteriorating infrastructure. More than $100 million was ultimately paid out by the state and two contractors to survivors and families of the dead. Infrastructure Preservation Corporation (IPC) has an answer to this catastrophic problem in the form of new geophysical nondestructive inspection technology, leveraged through robotic systems.
Looking back over the last 50 years, such loss of life is not all that uncommon.(2) In 1980, 35 people died when a freighter rammed one of the support columns of Tampa Bay's Sunshine Skyway Bridge. In 1967, 32 vehicles plunged into the freezing Ohio River when the Silver Bridge between Point Pleasant, WV and Gallipolis, OH collapsed, taking the lives of 46 people - a 0.1-inch defect in a metal bar was indicated to be at fault.
Out of approximately 612,000 bridges in existence in the U.S., more than 55,000 of them are in need of repair(3) - and Americans cross these endangered structures 185 million times per day.
New solutions, such as that developed by IPC, points the way to saving countless lives - as well as billions in repairs - by isolating structural faults before they become serious issues.(4) Robotic systems leverage geophysical nondestructive technology (NDT) protocols to, in effect, x-ray concrete and other infrastructure to identify early-stage deterioration, enabling recommendation of repairs before deterioration spreads and compromises the structure's ability to carry its design loads. Proper diagnosis allows planning and repair of early-stage deterioration, which is also financially preferable, in that it prolongs infrastructure service life expectancy.
"Traditional infrastructure inspection methods are over 50 years old and are thus quite outdated," said Doug Thaler, president of IPC. "They are manual in nature and often deliver subjective results. There are new solutions that provide quantitative data, allowing departments of transportation (DOTs) to better allocate existing maintenance budgets."
IPC's solutions, now patented or in patent pending status, constitute the first commercially viable robotic inspection methods in the industry. These technologies produce modern archived, quantitative inspection data that can help infrastructure asset managers to better manage preservation and extension of service life of critical infrastructure assets. For more information please visit https://www.infrastructurepc.com/.
About Infrastructure Preservation Corporation:
An infrastructure crisis of herculean proportions now exists in the U.S. At every level, the U.S. government is struggling with how to repair, replace and maintain the nation's aging bridges, roads, water management systems and more. Infrastructure failures could have significant impacts on daily life if action is not taken. Municipal, state and federal departments of transportation (DOTs) do not have the funds to replace aging infrastructure and are looking for ways to prolong service life.
Infrastructure Preservation Corporation (IPC) is a robotics manufacturer and professional services engineering company that delivers infrastructure inspection services using reliable and accurate imaging based on geophysical nondestructive testing (NDT) and robotic technologies. Based in Clearwater, FL, IPC has developed its solutions and services to detect early-stage infrastructure degradation and deterioration in concrete and steel structures. From bridges to utility or communication towers and other public/private infrastructure, IPC technologies deliver "next generation" alternatives to disrupt markets that are still using manual inspection methods. For more information, visit www.infrastructurepc.com.
(1) Karnowski, Steve. "Minnesota Bridge Collapse Still Reverberates 10 Years Later." Chicagotribune.com, 30 July 2017.
(2) "Bridge Collapses: 4 Deadliest in U.S. Over Past 50 Years." Time, Time.
(3) Holcombe, Madeline. "Number of Bridges in the US That Need Repair? More than 55,000." CNN, Cable News Network, 15 Feb. 2017.
(4) Bridge Inspections, Non Destructive Testing, Drawbridge Inspections.
(5) "TRANSPORTATION." Florida Department of Transportation - Office of Maintenance Wildflower Program.
Media Inquiries: Karla Jo Helms JoTo PR Phone: 888-202-4614 ext. 802
www.JoToPR.com
Contact
Infrastructure Preservation Co.
Doug Thaler
561-665-1477
www.infrastructurepc.com
info@infrastructurepc.com

Contact