Marina Del Rey Film Festival Screens Over 140 Films Congratulates Independent Films
Marina del Rey Film Festival Screens over 140 films at AMC Classic Marina Marketplace 6. Congratulations to all the filmmakers, films and award winners. A special thank you to AMC Independent and AMC Theaters and all the sponsors for support. Please support all of the sponsors.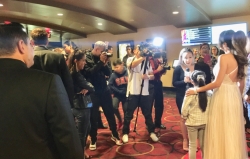 Marina del Rey, CA, November 03, 2017 --(
PR.com
)-- The 7th Annual Marina del Rey Film Festival was held at The AMC Classic Marina Marketplace 6 earlier this month. According to Jon Gursha, Festival Director, "The year's festival was very successful as which proudly featured over 140 independent films." Gursha added, "Marina de Rey Film Festival had a great turnout of filmmakers, filmgoers, producers, directors, actors, actresses and local industry executives, we congratulate all the filmakers." Attendees enjoyed networking opportunities as well as question & answer sessions with filmmakers moderated by Program Director Peter Greene. A marvelous kick – off party was held at Hal's Bar & Grill, Playa Vista and a sensational film - awards party was held at the Café del Rey in Marina del Rey. Congratulations to the 2017​ ​Marina del Rey Film Festival​ ​Award Winners.
Grand Prize Feature: Valentina
Grand Prize Short: Hero
Grand Prize Documentary: ​Beneath​ ​the​ ​Crown
Audience Award Feature: Counterfeiters
Audience Award Short: The​ ​Big​ ​Swim
Audience Award Documentary: Luminaries
Best Comedy - Short: Getting​ ​Ed​ ​Laid
Best Drama - Short: Dogs​ ​and​ ​Tacos
Best Director - Feature: Joshua​ ​Smith / Buckshot
Best Director - Short: Pierre​ ​finn And Alex Pierce / Lock It Up Dog
Best Actor - Feature: Tim Dezarn / Buckshot
Best Actress - Feature: Victoria​ ​del​ ​rosal / Valentina
Best Acting Ensemble - Short: Sisters​ ​-​ ​Pam​ ​Levin,​ ​Nikki​ ​Gatzimos, Elspeth​ ​Carden,​ ​Bella​ ​Winn
Best Animation: Garden​ ​party
Best Feature Screenplay: Guy​ ​jackson / Los Angeles Overnight
Best Short Screenplay: Self​ ​help
Social Impact Award: Munecas
Best Sound: Creak
Best Thriller - Short The​ ​Anniversary
World Cinema Short Narrative Award: Unforgotten
Best Drama - Short: The​ ​lake
Best Action Film - Short: Chasing​ ​Titles​ ​vol.​ ​1
Best Documentary - Short: Honey​ ​Badger
Best Editing - Short: The​ ​Anniversary
Best Romance - Short: Wink
Best Choreography: Incendio
Best Music Video: Pleasure​ ​Dome​ ​(February,​ ​26th,​ ​1981)
Best Visual Effects: Monty​ ​and​ ​the​ ​Runaway​ ​Furnace
Best Title Sequence: A​ ​Midwestern​ ​Methamphetamine Fairy Tale
Audience Award - Short Drama: Secret
Best Cinematography - Short: The​ ​Last​ ​Hurrah
Best Production Design - Short: Match
Best Music - Short: Katie​ ​and​ ​Ben
Best Score - Short: Hero
Young Filmmakers Award: The​ ​Fixer
Best Short – Mystery: Rope​ ​Trick
Best Sci-fi Short: Fleur
Best Horror Short: Vexed
Best Sci-fi Feature: Occupants
Thank you to all of the following sponsors for supporting the Marina del Rey Film Festival!
AMC Independent
AMC Theaters
Area Cinelounge
Barrister Executive Suites
Buffalo Wild Wings
Burger Lounge
Café Del Rey
Cedar Sinai
Cinetransformer
Dov S. Simens 2 Day Film School
Ernest Packaging Solutions
Eventbrite
Film Freeway
Hal's Bar and Grill Playa Vista
Jamaica Bay Inn
Jungle Software
Kabuki Japanese Restaurant
Movie Magic
Moviemaker Magazine
Pepperdine University
Pieology
Pitfire Pizza
Ruth's Chris Steak House
Stark Spirits
The Coffee Bean and Tea Leaf
The Law Offices of Jennifer Ambrose
Variety 411
Venice Duck Brewery
Wokcano
Writer's Boot Camp
The upcoming Culver City Film Festival taking place December 5-11. The Marina del Rey Film Festival was created by Peter Greene and Jon Gursha to showcase independent filmmakers in Los Angeles. Marina del Rey Film Festival is a registered trademark of Jon Gursha. #supportindiefilm
Contact
Marina del Rey Film Festival
Jon Gursha
818-633-5404
http://marinadelreyfilmfestival.com/
Marina del Rey Film Festival
4640 Admiralty Way Suite 500
Marina del Rey, CA 90292

Contact
Multimedia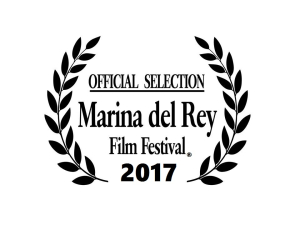 Marina del Rey Film Festival Laurel 2017 Official Selection