Artist Kikuo Saito - Exhibition at Jonathan Novak Contemporary Art Gallery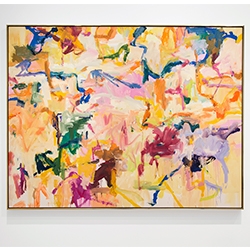 Los Angeles, CA, November 06, 2017 --(
PR.com
)-- Jonathan Novak Contemporary Art Gallery in Los Angeles is pleased to announce the opening of a solo exhibition of artist
Kikuo Saito
. An important artist of our time, Kikuo Saito's legacy is remembered through his beautiful body of work on view from November 6, 2017 - January 9, 2018. The paintings unveiled in this exhibition represent the culmination of decades of artistic development and are some of Kikuo Saito's most fluid, evolved and vibrant paintings.
Kikuo Saito (1939-2016) is an internationally acclaimed artist who was born in Tokyo. In 1966, Saito began working in New York City, where he would become the studio assistant for Helen Frankenthaler, Larry Poons, and Kenneth Noland. His work is part of the permanent collection of The Museum of Modern Art.
Like his Abstract Expressionist predecessors, Kikuo Saito's gestural approach is immediate, vigorous, and evocative, yet within these canvases, a lyrical softness is communicated through vibrant color and powerful brush strokes.
Kikuo Saito's artistic experience extended into the dynamic world of theater, set design, orchestrating costumes, dance, music, and art direction while collaborating with seminal figures of his day.
Saito painted the works in this exhibition from overhead, a technique drawn from his theatrical background in choreography. He created each piece in a rhythmic manner, often placing canvases and paper on the floor while allowing himself the ability to move freely around them. Colorful atmospheric environments fill the canvases from edge to edge.
About Jonathan Novak Contemporary Gallery:
http://novakart.com
Jonathan Novak Contemporary Art, a long-standing gallery in Southern California, is an important source for Post-War and Contemporary American and European art. The gallery is located in the heart of Century City, adjacent to Beverly Hills and the west side of Los Angeles. The gallery's extensive inventory includes paintings, drawings, sculpture, and prints by acclaimed artists from significant Post-War movements including Abstract Expressionism, Color Field, Minimalism, Pop Art, and Photorealism.
Jonathan Novak has been an exhibitor at international art fairs in New York, Chicago, Los Angeles, Miami, San Francisco, Palm Beach, Palm Springs, Southampton, and Aspen. He is a board member of the Fine Art Dealers Association (FADA) as well as The International Fine Print Dealers Association (IFPDA) and is a member of the Private Art Dealers Association (PADA).
Contact
Jonathan Novak Contemporary Art
Jessica Csanky
310 277 4997
novakart.com
Jessica@novakart.com

Contact
Multimedia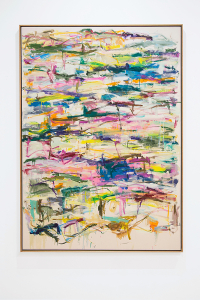 Paratai 2014 Acrylic on canvas 77-3/4" x 55-3/8" (196.5 x 140.7 cm)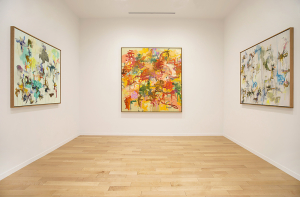 Exhibition view of "Antique Summer," "Monk's Orange," and "Toni's Spoon" at Jonathan Novak Contemporary Art Gallery