The Afrikaner Society is Seeking Legal Counsel Against the Government of South Africa
The Afrikaner Society alleges failure of the South African Government to address crime against Afrikaner communities and their subsequent protests.

Cape Town, South Africa, November 09, 2017 --(
PR.com
)-- Hannes Louw – Co-President of The Afrikaner Society alleges the following regarding the ongoing violence in South Africa:
"In the wake of the ongoing horror attacks against the minority in South Africa, the Afrikaner Society hereby asks all affected Afrikaners, especially those who have suffered as a result of farm murders and gang related violence to register on their platform to secure participation in any class action that may follow.
https://afrikanersociety.org/Account/Register
The Afrikaner Society recognizes the desperation and pain behind the people's march against specific heinous forms of violent crime on 31 October 2017 and subsequent response from the South Africa Government.
It is the Afrikaner Society's opinion that the government of South Africa has failed to address this issue for too long, and is seeking legal counsel to take government of South Africa to task for their reluctance to protect its citizens."
To get involved or support The Afrikaner Society please visit link below:
https://afrikanersociety.org/Home/CallToAction
"Western Cape Gangwatch are proud to announce that we joined forces with the Afrikaner society and we no longer accept to be victims due to a lack of protection by the government." - The Gangwatch team
Hannes Louw – Co-President continues, "While we will accelerate the process to put the structures in place to defend our people, it's high time the evil government of South Africa understands that we are sick and tired of being ignored and marginalized. We're going on the offensive, for now we will fight them in courts of law and the courts of public opinion and we shall prevail!"
Click here for the Definition of the Afrikaner People:
https://afrikanersociety.org/Home/Afrikaners
Contact
Caravan to Midnight Inc
Brendi Richards
214-326-2196
https://caravantomidnight.com
https://afrikanersociety.org/

Contact
Multimedia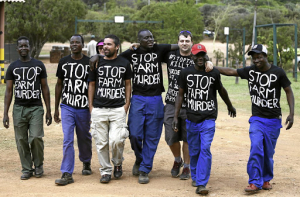 Cape Town - A convoy of hundreds of vehicles demonstrating against farm murders and killings arrived at Cape Town Stadium on Monday. MSM failed to mention that both black and white are standing together against this horror.