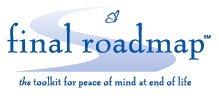 Seattle, WA, November 07, 2017 --(
PR.com
)-- Steve Byrne, cofounder of Final Roadmap, has been invited to be a speaker at Ignite TAO: Health, a high-energy evening of talks on latest developments and new ideas in wellness, pharmaceuticals, software, medical devices, healthcare and more. The event will be held on Thursday, November 9 at the Oregon Museum of Science and Industry in Portland, OR.
Steve is a respected authority and speaker on end-of-life planning and has been featured in the New York Times and U.S. News and World Report. He will be speaking on the importance of end-of-life planning, including the healthcare, financial, and other benefits.
Final Roadmap provides an online toolkit that guides individuals through the important steps to take to prevent emotional and financial hardship for loved ones in stressful times. The focus is on those decisions which can be anticipated and cause the most unnecessary pain and waste. The primary goal is to be focused on end of life decisions that can be anticipated well in advance of death, hopefully while people are young and healthy. Final Roadmap is committed to preparation as a source of peace of mind for individuals and those they love, they invite people to be organized and show them how.
Details on the event, including ticket information, is available at www.techoregon.org/events/ignite-tao-health. To learn more about Final Roadmap, go to www.finalroadmap.com.