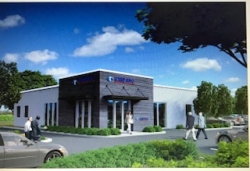 Branford, CT, November 13, 2017 --(
PR.com
)-- Sound Auto Wholesalers has acquired the property at 139 West Main St in Branford, CT for use as a second location. The company's first location is at 14 Frontage Road in East Haven, CT. The business was established in 2014 by Daniel Merriam.
The dealership will operate from both locations. The service department and administrative/sales offices will relocate to the new location in Branford.
According to Daniel Merriam, "We have simply outgrown our present location. Although we would have preferred to acquire enough space to be all 'under one roof' there simply was not an adequately sized parcel available." The new location will be conveniently located exactly one mile east on Route 1 from the current location at 14 Frontage Road in East Haven.
"The new location will allow us to have first class sales and reception areas for our customers. We will also be tripling the size of our service facility to allow up to take care of the ongoing service needs of our customers. We will also be expanding our inventory from approximately 125 cars to over 200."
With construction slatted to start soon it is anticipated that the new facility will be ready to open in April 2018.
Dan Merriam is the grandson of the late Samuel G. Merriam who founded Merriam Motors in 1948. His father Larry Merriam is the founder of Key Auto Group. Daniel is a lifelong resident of Branford and is a graduate of Branford High School.