Quobyte Releases Its 2.0 Data Center File System Software and Takes the Management Complexity Out of Storage
Flexible, easily configurable and extensible storage platform delivers unified, multi-protocol data sharing for emerging workloads on Linux, Windows, Mac, Hadoop, and S3.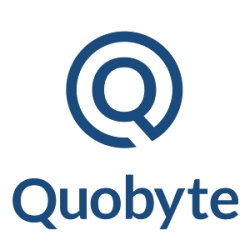 Santa Clara, CA, November 14, 2017 --(
PR.com
)-- Quobyte Inc., a startup in distributed systems storage solutions, today announced the next release of the Quobyte Data Center File System software. With this newest version of its software, customers can eliminate storage "silos" and realize a single unified storage platform for unstructured data.
Quobyte software combines the linear scalability and highest performance of a distributed, parallel file system with the lights-out reliability of cloud-style operations. The predictable performance, whether low latency or high IOPS, can be utilized by a variety of workloads such as those in Commercial High Performance Computing (HPC), Financial Services, Electronic Design Automation (EDA), Media and Entertainment, as well as Container infrastructures Kubernetes and Docker. Quobyte software delivers all benefits whether it is deployed on solid-state drives or ordinary hard disk drives in commodity servers.
"Quobyte's vision from the outset has been to bring cloud scalability, agility, and cost-effectiveness to the enterprise," said Bjorn Kolbeck, CEO Quobyte, Inc. "Our 2.0 release is all about simplifying data center storage management and automating processes and tasks to reduce operational expenses."
The Quobyte Data Center File System provides read/write/access to files natively from Linux, Mac, Windows, Hadoop and S3. Quobyte 2.0 goes a step further and also provides shared ACLs to preserve security and access as intended – applying the access control regardless of the access method/protocol used to get to the file. There is no need to duplicate the data in order to have multiple people working on the same file.
Quobyte software installs and configures in just minutes and its smart data placement engine significantly reduces complexity and management overhead. Data placement policies can be based on attributes such as file size or age, as well as by tenant/user or application. Policies can then be used to drive automated tiering, deliver performance isolation and enforce physical, device-level security. Placement policies also define data protection, striping and block size. Because these storage functions are abstracted from the hardware and defined by policies, they can be changed in a matter of seconds, even on the fly. This allows administrators to provision storage based on application needs and just as easily reconfigure those same storage resources to be responsive to changing and emerging workloads.
"The migration to Kubernetes and Quobyte was done for scalability and performance. It has allowed us to significantly grow the volume of transactions while at the same time decreasing transaction times." - Michael Laccetti, Principal Engineer, Points
The Quobyte 2.0 release adds Volume Mirroring to the Disaster Recovery capabilities. Volume Mirroring is continuous, asynchronous mirroring across geographies, continents and clouds.
Quobyte Data Center File System 2.0 software is available now from Quobyte.
Please visit https://www.quobyte.com for more information.
About Quobyte
Quobyte is passionate about data center technology. We create software that empowers customers to come to grips with managing the explosion of data by building a reliable, scalable, and flexible software storage infrastructure.
Contact
Quobyte
Sebastian Bünker
+4930814591828
www.quobyte.com

Contact