Radly Bates Index SEP: US Entrepreneurial Activity Increased to Highest Level of 2017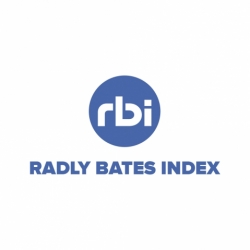 San Francisco, CA, November 17, 2017 --(
PR.com
)-- Up until September of 2017, self-employment had peaked at 9.58% in February but that peak has been surpassed by September's number of 9.67%. The preliminary numbers for October suggest that it could be as high as 9.9% but the October data is subject to adjustment and the RBI is calculated post adjustments so we will need to wait 30 days for confirmation of the October result.
In September there were 15.577 million self-employed Americans (compared to 15.154 million for August) and 161.146 million employed Americans (compared to 160,571 for August) resulting in a self-employed percentage of 9.90% for September (compared to 9.44% for August), hence the RBI for September is 9.67.
"The RBI for September is a welcome relief from steady declines earlier in the year and the preliminary numbers for October indicate that September may not just be a short-term fluctuation," said Adam Radly, co-founder of the RBI.
In the meantime, the October Jobs data has been released. According to Reuters, "U.S. job growth accelerated in October after hurricane-related disruptions in the prior month, but wages grew at their slowest annual pace in more than 1-1/2 years."
Nonfarm payrolls increased by 261,000 last month after 106,000 leisure and hospitality workers resumed work, according to the Labor Department. This was the largest gain since July 2016, however, it fell short of economists' expectations which was for an increase of 310,000 jobs.
Average hourly earnings fell one cent in October (effectively unchanged in percentage terms) and wages moved up 0.5 percent in September.
A Reuters report suggests that "Although the unemployment rate fell to near a 17-year low of 4.1 percent in October, from 4.2 percent in the prior month, it was because the labor force dropped by 765,000 after a surprise rise of 575,000 in September."
About Radly Bates Index
The founders of S7 Group, a private investment company based in California, Adam Radly and Bob Bates have launched a new index designed to track entrepreneurial activity in the United States.
The Radly Bates Index ("RBI") measures the percentage of the active workforce that is self-employed. The Index will be updated monthly at the same time as the monthly jobs data is released and is based on data from the US Bureau Of Labor Statistics.
The Radly Bates Index ("RBI") is part of the S7 Group, a private investment company that invests in small businesses directly and also raises capital for small businesses. More information about the RBI can be found at www.radlybatesindex.com and more information about S7 Group can be found at www.s7group.com.
Adam Radly and Bob Bates
can be available for comment through this email address: media@s7group.com.
radlybatesindex.com/radly-bates-index-sep-us-entrepreneurial-activity-increased-highest-level-2017
Contact
S7 Group
Bob Bates
778-371-3479
s7group.com

Contact