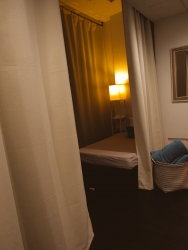 Chicago, IL, November 21, 2017 --(
PR.com
)-- If you find yourself weary in the Windy City, taking a restorative midday power nap just got a whole lot easier and more convenient thanks to Peace Power Napping's Michigan Avenue nap studio and accompanying mobile app.
Peace Power Napping's nap studio is located across the street from Millennium Park at 30 N. Michigan Ave. Here's how it works:
1. Download the Peace mobile app
2. Book nap session(s) as needed or reserve sessions in advance
3. Self-check-in on the app prior to arrival
4. Arrive at the nap studio and find pre-selected room number
5. Lie down and enjoy the nap—lights and music will raise to signal session end
When reflecting on the bigger picture, founder Jennifer Thomas says, "I like to think of Peace as on-demand napping for Chicagoans—and hope that's the story we are able to convey to the community. With a focus on user-friendliness and convenience, our goal when designing Peace was to make it as easy as possible for city-dwellers to grab a restorative midday power nap."
America could use a nap. According to the Center for Disease Control and Prevention, http://ow.ly/klgM30gHPvW, the country is currently in the midst of a sleep crisis with 1 in 3 adults not getting enough sleep. Sleep deprivation wreaks havoc in innumerable ways. A sampling includes:
1. Costing an estimated $63 billion annually in lost workplace productivity
2. Negatively affecting mental and emotional health
3. Lack of engagement at work and in life
"Sleep isn't a luxury, it's the foundation on which every aspect of our being rests upon. Our physical, mental, emotional, and spiritual wellness, our ability to be actively engaged in our work and our relationships, and our likelihood to fulfill our life's true potential is all contingent upon how rested we are. Simply put, we can only get out as much as we put in," Thomas adds.
To book a free 30-minute power nap on Black Friday or Cyber Monday, visit
www.peacepowernapping.com
to access the App Store and Google Play links to download the Peace mobile app. Book desired nap session and use promo code: celebratepeace at checkout.
About Peace Power Napping
Founded in 2017 and located in Chicago, Peace Power Napping is an innovative service that lets exhausted city-dwelling professionals, students and travelers grab a midday power nap with the tap of an app. Peace Power Napping's downtown nap studio is convenient and comfortable, while the Peace mobile app streamlines the entire process. Getting some peace and quiet downtown during the day couldn't be easier.
Get some peace Reclaim your power.
Press Contact
Name: Jennifer Thomas
Direct: 312-307-5082
Email:
jennifer@peacepowernapping.com
Address: 30 N. Michigan Ave., Ste. 1301, Chicago, IL 60602