Investy to Launch Alpha Trading Terminal in December to Unite Experienced Crypto Traders & Novice Investors in One Platform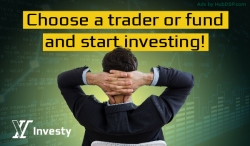 Copenhagen, Denmark, November 22, 2017 --(
PR.com
)-- A lot of people who are new to the concept of crypto trading, and even those who have been investing for some time, know that there is much to learn in this new and sometimes volatile space.
Although there are risks and unpredictability in all markets, the supply of real-time solutions offering assistance to investors in the crypto exchanges was non-existent – until Investy.
Investy is the world's first decentralized investments platform, offering ease of use, transparency, safety and reliability. Their mission is to unite experienced traders and novice investors together, in one platform.
Artem Golovachev, CTO, says, "With Investy, we provide you, the investor, with a marketplace where you can choose a trader or a fund and know that your money is safely invested and the results are authentic. Most importantly, investing via the Investy platform is safe."
"There is no need to transfer your money or assets, and they are always on your account. Only you can access the transaction, and the rest is taken care of by the platform. We are the first ones to develop and implement an expert trader's system, and the platform assumes the role of a gateway, blocking all fraudulent transactions."
Alex Pershing, CEO, explains, "Investing via Investy, you can be sure that your money will not be withdrawn, with a guarantee that there will be no chance of fraud from the trader's side. No one can lose your deposit and it is in maximum security in the Investy environment."
"Analyzing cryptofunds and traders markets, we realized that many funds do not provide transparent reporting for their investors, and often their official numbers do not exceed the growth of bitcoin."
The revenue created from the Investy platform will be formed from subscription fees for services and commissions. Token holders will receive reduced commissions: the more Investy tokens are in a wallet, the lower the commission is.
Tokens will be used as subscriptions for services on the platform. After investors no longer need the services, they can sell them on the exchange. If you are a beginner and do not know how to "enter" the crypto-market, or what to do after your Bitcoin purchase, the Investy platform will put you at ease. The Investy platform is decentralized and does not have the problems of the classical investment sector: lack of transparency or a lack of trust.
Investors can keep their assets on the exchanges that they trust, including decentralized ones, as it will be integrated with all major crypto-exchanges.
On the platform, an investor can choose a trader that matches his expectations according to various parameters: profitability, a size of trader's commission and of course a stock exchange, where a trader works.
Golovachev says, "Investy connects traders with investors' accounts, but moreover, the investor can set additional parameters and conditions, such as a stop-loss. For example, if the investor is afraid of a drawdown of more than 20% of the deposit, they can put a stop-loss, and with such a drawdown, the account will close."
The Investy platform provides protection to clients' funds, because there is no direct transfer of assets, plus increased protection from any type of fraudulent transactions. They really care about the safety of their clients' funds.
Shortly, Investy will have their first prototype. In December, they will add the alpha version of the trading terminal in demo mode and then proceed to the serious task of building the trading terminal. They have a full roadmap, which will result in a working prototype with many useful functions, including the subscription function.
People who are new to the concept of crypto don't have to hesitate, as Investy is an excellent starting point for beginners to the crypto-world, offering complete safety.
Pershing continues, "The results of all traders are recorded in the blockchain, meaning the results are reliable and cannot be falsified. Investors can choose a trader according to open ratings and specific parameters, and earn together. Investors assets are managed by professionals, giving them the best results."
"After research, it emerged that crypto funds and trader's markets were not offering clear reporting for their investors. Investy ensures that all investments are in safe hands, as we have developed an expert system that takes the role of a gateway, blocking all fraudulent transactions. Money is held safely, with no theft or possibility of fraud through a trader's actions."
Find out more information about the Investy ITO, an OpenLedger partner, running from the 24th of November until the 18th of December at
https://ito.investy.io
Contact
OpenLedger ApS
Aviva Ounap
+44 7887 244 206
www.openledger.info
aviva.ounap@openledger.io

Contact