Penn State Chooses DonorDrive to Unite Philanthropy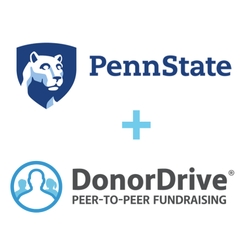 Cincinnati, OH, November 27, 2017 --(
PR.com
)-- The Penn State University has selected the DonorDrive Peer-to-Peer Fundraising platform and services to power all of their digital philanthropic outreach. Penn State THON™ (the world's largest student-run philanthropy), Alumni Development, and DIY Crowdfunding Campaigns will join Four Diamonds Fund and Penn State Health in fundraising through DonorDrive.
THON is committed to enhancing the lives of children and families impacted by childhood cancer and has raised over $147 Million to date. Penn State is excited to bring DonorDrive's modern fundraising platform into play for its various programs, says Kelly Altland, Associate Vice President and Chief Development Officer at Penn State Health: "DonorDrive has been a trailblazer for student fundraising in the K-12 and higher education space."
On the choice of DonorDrive, O. Richard Bundy, Vice President, Development and Alumni Relations notes: "Penn State is excited to partner with DonorDrive to bring industry leading peer-to-peer fundraising capabilities to THON, especially as our donors become increasingly tech savvy in the ways they make their gifts." Andrew Smith, Executive Director and Student Chair of THON 2018 comments: "THON is very excited to work with DonorDrive to expand our online fundraising capabilities. The platform's flexibility and ease of use will make it an invaluable fundraising tool for all THON volunteers. The DonorDrive platform allows all of THON's supporters to fundraise in a very personal way."
Paul Ghiz, President of DonorDrive says: "We're honored to add the amazing THON events and The Pennsylvania State University to our fundraising community. Combining their philanthropy on the DonorDrive platform will deliver more efficient, creative fundraising with higher engagement to better support their mission."
About The Pennsylvania State University
The Pennsylvania State University has twenty-four campuses, 17,000 faculty and staff, 100,000 students, a teaching hospital with 1 million patient visits a year, over one-half million active alumni, an online World Campus that empowers anyone to pursue an education—anytime, anywhere, and the largest student-run philanthropic organization on the planet. Learn more at
psu.edu
.
About DonorDrive
DonorDrive helps nonprofits to raise more money through fundraising technology, marketing and interactive design services. With DonorDrive, organizations like MADD, Children's Miracle Network Hospitals, World Vision, American Foundation for Suicide Prevention and National Alliance on Mental Illness have raised more than $1 Billion. Learn more at
DonorDrive.com
.
Contact
DonorDrive
Joanna Harvey
866.244.0450
DonorDrive.com

Contact