Roy Lichtenstein at Art Miami
Jonathan Novak Contemporary Art gallery to exhibit important works by Roy Lichtenstein at Art Miami December 5th-10th 2017.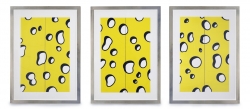 Los Angeles, CA, November 29, 2017 --(
PR.com
)-- Iconic works by
Roy Lichtenstein
are to be featured at the Jonathan Novak Contemporary Art gallery exhibition at Art Miami. Roy Lichtenstein, one of the world's renowned leaders of the Pop Art Movement, transformed commercial art, advertising, and print design and established printmaking as a significant art form from the 1960's onward. Lichtenstein's accessible artistic icons, impactful pictorial language, and bold colors are unmistakable.
A highlight of the exhibition is Lichtenstein's "Collage for Three Swiss Cheese Doors," an impressive and memorable work. Each collage is one of three preparatory works for three sets of double doors commissioned for a private collector. This set of collages celebrates Lichtenstein's artistic sensibility and unique signature humor. Swiss cheese is an iconic symbol in Lichtenstein's work, vibrant and bold in both shape and color. He first used the motif in a painting of a large cheese wedge and then as a symbolic head, cleverly transforming the holes into eyes. He later integrated this iconic imagery into the decor of his studio, with a composition of swiss cheese collages on his elevator doors.
At Art Miami, Novak will also be featuring notable works from important artists: Sam Francis, Richard Diebenkorn, Jim Dine, Jean Dubuffet, Ralph Goings, David Hockney, Howard Hodgkin, Frank Stella, Alexander Calder, Wayne Thiebaud, Robert Motherwell, and others.
About
Jonathan Novak Contemporary Art Gallery
Jonathan Novak Contemporary Art, a long-standing gallery in Southern California, is an important source for Post-War and Contemporary American and European art. The gallery is located in the heart of Century City, adjacent to Beverly Hills and the west side of Los Angeles. The gallery's extensive inventory includes paintings, drawings, sculpture, and prints by acclaimed artists from significant Post-War movements including Abstract Expressionism, Color Field, Minimalism, Pop Art, and Photorealism.
Jonathan Novak has been an exhibitor at international art fairs in New York, Chicago, Los Angeles, Miami, San Francisco, Palm Beach, Palm Springs, Southampton, and Aspen. He is a member of the Fine Art Dealers Association (FADA), The International Fine Print Dealers Association (IFPDA), and the Private Art Dealers Association (PADA).
At Art Miami
December 5th-10th, 2017
Jonathan Novak Contemporary Gallery, Booth A520
New Address/Downtown Miami
The Art Miami Pavilion @ NE 14th St.
1 Herald Plaza Miami, FL 33132
Contact
Jonathan Novak Contemporary Art
Jessica Csanky
310 277 4997
novakart.com
Jessica@novakart.com

Contact