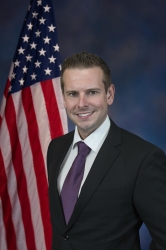 Pawtucket, RI, December 04, 2017 --(
PR.com
)-- Mr. Fecteau has made the following statement:
"While my campaign will be officially launched in a couple months, I am honored to announce that I will seek the Democratic nomination for the 8th District State Senate seat in Pawtucket, Rhode Island, currently occupied by James Doyle. In 2016, we nearly did the impossible, almost beating an incumbent with only three weeks of campaigning because my military obligations kept me overseas for much of the election cycle.
"I seek to be a catalyst for change as your State Senator. Growing up in Pawtucket, my father, Ray Fecteau, worked long hours to put food on our table. Now, the deck is increasingly stacked against regular families like ours. The members of our General Assembly have demonstrated that they don't have the answers, but we do. Lately, it seems our representation is more focused on their latest scandal than on doing the people's work.
"Pawtucket needs new leadership. We need a sincere voice that is willing to take on the establishment and represent working families instead of lobbyists and special interests. I have fought for our country, and now, back home, I will fight for our state, city, community, and people. We have numerous obstacles to overcome, but with hard work and a commitment to progress, we can make Rhode Island a better place for everyone."
Mr. Fecteau is a current graduate student, and an Army Reservist with the 151st Theater Information Operations group. For any questions, please call 401-225-0541 or email him at Matthew.Fecteau@gmail.com.