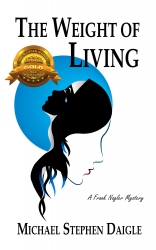 Phillipsburg, NJ, December 12, 2017 --(
PR.com
)-- The judges of the 2017 Royal Dragonfly Book Awards contest, which recognizes excellence in all genres of literature have spoken, and "The Weight of Living" by Phillipsburg, New Jersey author Michael Stephen Daigle, won First Place in the Mystery category.
"Winning any place in the Royal Dragonfly Contest is a huge honor because in order to maintain the integrity of the Dragonfly Book Awards, a minimum score is required before a First or Second Place or Honorable Mention will be awarded to the entrant – even if it is the sole entry in a category," explains Linda F. Radke, president of the Dragonfly Book Awards program. "Competition is steep, too, because there is no publication date limit as long as the book is still in print."
"The Weight of Living" is the third book in the Frank Nagler Mystery series set in Ironton, N.J. The books follow the investigations of Detective Frank Nagler, who also deals with his own human frailties.
In "The Weight of Living," Nagler's search for the name and background of a young girl discovered alone in grocery store Dumpster on a cold March night leads to a dark family past and death. It also puts Nagler in contact with the manipulative force behind the family's story, and places Nagler and his close circle in grave danger.
Daigle said, "I tried to imagine as evil a villain as I could, which resulted in finding some of the most damaged characters I have ever created. Nagler's search is not just for a criminal, but for peace for his victims."
"The Weight of Living" is available online in ebook and paperback at Amazon, Barnes & Noble, Kobo and Wal-Mart.
For a complete list of winners including all first and second place and honorable mention recipients, visit www.DragonflyBookAwards.com and click on "Winners."
For more on the Dragonfly Book Awards, visit www.DragonflyBookAwards.com, email info@storymonsters.com or call 480-940-8182.
Contact Michael Stephen Daigle at michaelstephendaigle@hotmail.com; 908.619.6393; www.michaelstephendaigle.com.