Middleton Group Inc. Selects INDUSTRIOS Software Inc. for ERP and Data Tracking
INDUSTRIOS Software, Inc. announced today that Middleton Group Inc. has selected INDUSTRIOS' ERP manufacturing software solution as its company-wide manufacturing system. INDUSTRIOS is a leader in ERP manufacturing systems. The company has INDUSTRIOS ERP implemented and installed at client sites internationally.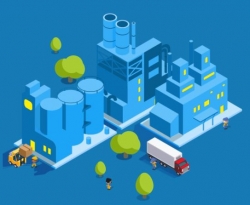 Oakville, Ontario, Canada, December 16, 2017 --(
PR.com
)-- "Middleton Group Inc. operates in a growing manufacturing sector for INDUSTRIOS Software that we refer to as marketing fabrication," said Jacques Decarie, Vice President of Sales and Marketing,
INDUSTRIOS Software, Inc.
"Many companies in this sector require mixed mode ERP systems with an ability to handle project manufacturing. INDUSTRIOS will provide Middleton Group Inc. with a modern, robust set of tools which serve these needs."
"We wanted more than just a software package. We wanted a technology partner, one that would listen, understand our needs, and present a solution to address these. We had evaluated a number of other ERP systems which fell short on either functionality or fit for our business, or business approach. Not only does INDUSTRIOS have referenceable expertise in our industry, but they showed the right approach to partnering with us." - Craig Riethmacher, COO, Middleton Group.
About Middleton Group Inc.
Middleton Group has provided leading brands in North America with creative solutions and strategic direction for their large format printing, retail displays, fixtures and décor for over 65 years. Middleton Group is known for its outstanding design capabilities and exceptional all around service. Their attention to quality, value, speed and service has earned them recognition as a leading supplier of retail print and point-of-purchase displays for many top North American firms.
For further information, please visit www.middletongroup.ca.
About INDUSTRIOS Software, Inc.
INDUSTRIOS Software, Inc. (www.industrios.com) is an industry leading developer of hybrid ERP manufacturing software for small and medium sized manufacturers.
INDUSTRIOS Software develops and markets the INDUSTRIOS ERP Manufacturing Suite, a robust, proven and complete set of manufacturing software applications with successful implementations in multiple manufacturing environments, including make-to-stock, make-to-order, assemble-to-order, configure-to-order, mixed mode and make-to-project. (https://www.youtube.com/watch?v=LZHCo315As8)
For further information please visit www.industrios.com.
Contact
INDUSTRIOS Software Inc.
Jacques Decarie
905-829-2525
www.industrios.com

Contact