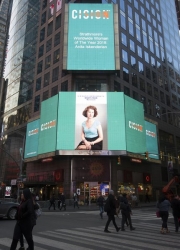 New York, NY, December 21, 2017 --(
PR.com
)-- Anita Iskenderian of New York, New York has been highlighted on the Reuters Billboard in Times Square in New York City and recognized as one of the Top 10 Women of the Year for 2017 by Strathmore's Who's Who Worldwide Edition for her outstanding achievements and high level of success for over 25 years in the field of healthcare.
About Anita Iskenderian
Anita Iskenderian is an Administrative Assistant at Magellan Health, Inc., which is a healthcare system providing patient care in Avon, Connecticut. Headquartered in Scottsdale, Arizona, they offer an integrated, insightful portfolio of behavioral and specialty health solutions for health plans, employers, the public sector, and the Federal government, including the military. She is responsible for administration, data entry and process scheduling.
Ms. Iskenderian is affiliated with the I.A.A.P. She is a member of the National Association of Professional Women where she was honored as a VIP Woman of the Year.
Anita was raised in Lynbrook, New York. After obtaining a B.S. from SUNY Brockport, she obtained Certifications in Medical Billing and Paralegal Studies from Adelphi University. She is also a licensed Notary Public in New York and Connecticut. In her spare time Anita enjoys her pet cat.
For further information, contact
www.magellanhealth.com.
About Strathmore's Who's Who Worldwide
Strathmore's Who's Who Worldwide is an international advertising, networking and publishing company based in Farmingdale, New York. They are proud to be able to satisfy their clients and continue to have repeat clientele due to their longevity and pride in their products and services. The Owners strive to connect business professionals to enhance their contact base and networking capabilities so they can get the acknowledgment and publicity within their industries and beyond. The Strathmore family has been providing these valuable services for over two decades. They target executives and professionals in all industries to be featured in their publication and on-line directory. Industries include business, law, education, healthcare and medicine, fine arts, IT, government, science, real estate, entertainment and many more accomplished fields. Professional profiles are listed in an annual hardcover journal and in a detailed, searchable database on the website www.strww.com.