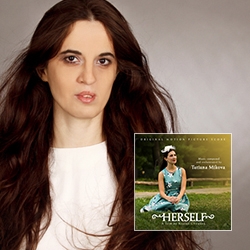 Los Angeles, CA, December 27, 2017 --(
PR.com
)-- The original motion picture score was written and orchestrated by London based film music composer Tatiana Mikova, who was approached by awarded film director Kintan Chauhan (living in New York) to create original orchestral music for his short family film "Herself." The film is inspired by an unconditional sacrifice, that a mother, father or anyone does for someone's happiness.
The soundtrack features five orchestral tracks and was recorded/mixed by Tomas Nohal at Nohal Sound Studio in London in 2017 with featuring artist Vlada [Mau] Bayazitova. The soundtrack is available on iTunes, Amazon, GooglePlay, Spotify and other platforms.
Tatiana Mikova is a film music and classical concert music composer, who has been involved in the film industry since 2003. After her opportunity to score shots films, John Friedel's independent feature film Treasure of Anna Hawkins (2007) and short crime The Final Straw, she started working for major film productions in Prague/Czech Republic in 2008. She created orchestral arrangements for F.A. Brabec's feature romance May (2008) and 3D feature film musical Magical Duvet (2012). Tatiana collaborated with renowned film director Juraj Jakubisko on his large historical drama Bathory (2008) (with Anna Friel and Franco Nero), both as a composer and orchestrator. She has also worked with famous director Jiri Svoboda, for whom she scored period horror The Forest of Dead (2009) and period drama Incorrigible (2009). Tatiana is best known for her film music to highly successful and awarded feature trilogy and TV series: Trabant Goes to Africa (2011), Trabant on the Silk Road (2008), Trabant vs. South America (TV series, 2014) and Trabant at The End of The World (2014).
Besides film scoring Tatiana also composes classical concert music. Her works include Symphony No. 1, Concert for Piano and Orchestra, Overture - premiered and TV broadcast by Minnesota Sinfonia in USA, Spanish Serenade performed by famous ensemble The Czech Nonet and radio broadcast by American Public Media as a part of the most-listened-to classical music radio program Performance Today (hosted by Fred Child), and also broadcast by other radio stations worldwide.
More details about Tatiana Mikova available at: www.tatianamikova.com