Simply Perfect Poke Kits™ Available Now from AnnaSea Foods Group
Global Seafood Manufacturer, Western United Fish Company dba AnnaSea Foods Group Introduces Seven Varieties of Simply Perfect Poke™ Kits Available Now.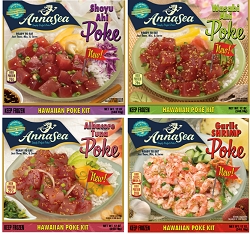 Redmond, WA, January 02, 2018 --(
PR.com
)-- Western United Fish Company dba AnnaSea Foods Group, a family-owned and managed company, is excited to announce their retail-ready Simply Perfect Poke™ Kits in seven authentic flavor varieties. With ingredients sourced from Hawaii, their do-it-yourself kits are as simple as "thaw, mix, and serve." The 7 delicious varieties include: Shoyu Ah Poke, Wasabi Ahi Poke, Spicy Ahi Poke, Limu Ahi Poke, Albacore Tuna Poke, Sriracha Salmon Poke, and Garlic Shrimp Poke.
Simply Perfect Poke™ Kits offer an easy and healthy solution for a delicious meal or appealing appetizer. Poke is a versatile dish that can be combined with a variety of fresh, healthy ingredients to make any meal exciting. Each 12 oz. Simply Perfect Poke™ Kit comes packed 24 to a case with a suggested retail price (SRP) of $8.95, available in the seafood case at large national and local grocery chains.
After establishing a strong foothold in Hawaii, AnnaSea Foods Group was ready to meet the swelling demand for fresh, easy to prepare seafood meals on the US mainland with Hawaiian poke. This poke is said to have jump-started the massive trend, popular with health enthusiasts, millennials, and seafood lovers alike. AnnaSea's food service poke kits were launched in 2016, and were a featured product at the Seafood Expo North America in Boston, MA.
"This retail line took 9 months of development to ensure that every food safety detail was accounted for, especially with this being a raw product," said Alex Tran, President of AnnaSea Foods Group. "We also wanted to capture the authenticity that is lost in a lot of new recipes by bringing in ingredients directly from Hawaii and Japan that are specifically tailored to our product."
AnnaSea poke swiftly sold out in July on the Amazon Treasure Truck and has been available at Costco Wholesale since 2010 as a ready-to-eat product. "Consumers have been requesting a way to take our product into the home for years, it was only a natural extension of our product line to offer a take-home DIY kit," said AnnaSea Foods Group Marketing Executive, Jacob Berry.
About AnnaSea Foods Group
Based in Redmond, Washington, Western United Fish Company dba AnnaSea Foods Group) is a privately held global seafood company with offices worldwide. AnnaSea Foods Group is a distributor, wholesaler, and manufacturer of quality premium seafood. To stay up to date on the latest, visit AnnaSea.com.
Contact
AnnaSea Foods Group
Jacob Berry
425-558-7809
AnnaSea.com

Contact
Multimedia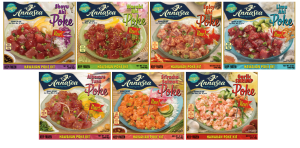 A larger-resolution file to view the 7 varieties of Simply Perfect Poke Kits.