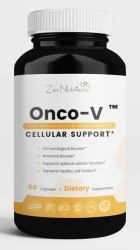 Tampa, FL, January 02, 2018 --(
PR.com
)-- Zen Nutrients announces the release of a new natural supplement featuring two proprietary blends: the Onco-V blend and the T5 blend.
The proprietary blends in Onco-V are a game-changer because they are the first supplements co-developed by doctors and pharmacists that support optimal cellular function, support healthy cell division, and act as nutritional and immunological boosters. No other products on the market have either of the proprietary blends in their supplement.
Zen Nutrients Onco-V Capsules contain resveratrol, green tea extract, quercetin, turkey tail mushrooms, turmeric, garlic, ginger, ginseng, tocotrienols, triterpenes, vitamins A, B, C, D, and E, selenium, zinc, manganese, and molybdenum. Onco-V is the most comprehensive cellular support supplement on the market.*
Antioxidants are thought to help the body protect against damage caused by oxidative metabolites, exposure to harmful substances, and the overall aging process.
Key antioxidants found in Onco-V:
• Green Tea Extract
• Trans-Resveratrol
• Turkey Tail Mushroom
• Garlic
• Ginger
• Ginseng
• Quercetin
• Turmeric
• Tocotrienols
• Triterpenes
"There is no other product like Onco-V on the market. Onco-V has 26 ingredients packed into one capsule! Some supplements only have about 3 or 4 ingredients. Not only does this save my patients money, it also saves time and frustration and increases compliance," says Dr. Eric Wood, Naturopathic Doctor. "Asian cultures traditionally have much lower rates of cancer and one of the reasons thats postulated why is their high green tea consumption which is a very high antioxidant level product as well as some of the other properties it has around p53 gene control and actually being tumorolytic (causing apoptosis of cancer cells)."
The most bioavailable forms of ingredients are used in Onco-V, including turmeric (curcumin), resveratrol, green tea extract, tocotrienols, selenium, folate, and vitamin B12.
"Curcumin is currently undergoing clinical trials for multiple types of soft tissue cancers but the potential health benefits are limited by curcumin's low bioavailability, poor solubility and absorption, and rapid metabolism," says Nicholas Micciche, Zen Nutrients Lead Research Strategist. "By reconstituting curcumin with other non-curcuminoid components of turmeric, the BCM-95 form of turmeric has been shown to dramatically increase the bioavailability of curcumin, thus improving the effects it may have on cancer, overall cellular health, and as anti-inflammatory agent."
Zen Nutrients products can be found online at ZenNutrients.com, Amazon.com, and DrNutrient.com. For more information, please visit www.zennutrients.com.
About Zen Nutrients
Zen Nutrients is based in the Tampa Bay area of Florida, and is a formulator and supplier of superior nutraceuticals. Zen Nutrients believes in the power of natural medicine and has witnessed the health benefits of the holistic approach. They also believe in pharmaceuticals and the standardization of medicine. Each formula is carefully designed and researched by pharmacists, physicians, and naturopathic doctors. Zen Nutrients knows that the best health outcomes will occur with the meeting of naturally-found ingredients and pharmaceutical-grade standards. Zen Nutrients nutraceuticals are manufactured in an FDA-registered laboratory that follows Good Manufacturing Practices (GMP). The company's complete line of nutritional products includes vitamins, minerals, standardized herbal extracts, amino acids, and enzymes.
Visit:
www.zennutrients.com
today.
Zen Nutrients , Inc. Media Contact::
Nicholas Micciche, Lead Research Strategist, Zen Nutrients
(855) 936-8483
nmicciche@zennutrients.com
*These statements have not been evaluated by the Food and Drug Administration. This product is not intended to diagnose, treat, cure, or prevent any disease.