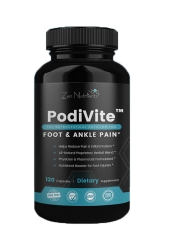 Tampa, FL, January 03, 2018 --(
PR.com
)-- Zen Nutrients announces the release of a new high-potency natural supplement and the first daily natural supplement for chronic foot and ankle pain.*
Zen Nutrients PodiVite Capsules contain: Boswellia, Devil's Claw, White Willow Bark, Glucosamine, Chondroitin, MSM, Collagen, Hyaluronic Acid, Curcumin, Bromelain, L-Proline, L-Glutamine, Zinc, Magnesium, Manganese, Vitamin C, Vitamin D, and Vitamin B12. This supplement is GMO-free and gluten-free.
PodiVite's synergistic proprietary pain blend of herbal supplements work together to ease the pain of sports injuries or any other form of foot pain. By reducing pain and inflammation, they also help treat plantar fasciitis, restore ligaments, alleviate chronic foot pain problems, and aid in the recovery from tendonitis.*
Key ingredients found in PodiVite Capsules:
• Boswellia: a plant ingredient that improves range of motion and reduces inflammation*
• Devil's Claw: an African herb with anti-inflammatory properties that relieves joint pain*
• White Willow Bark: commonly known as "nature's aspirin" with natural anti-inflammatory properties for pain relief*
PodiVite contains a proprietary herbal synergistic pain blend with natural ingredients proven to help reduce pain and inflammation.*
"There's a great supplement out now. It's the only one that's designated for foot pain called PodiVite. There's 19 key ingredients and there's a proprietary blend that's excellent for inflammation in general. It contains Boswellia, Devil's Claw, and even curcumin," says Dr. Bobby Koser, DC, Seminole Heights Chiropractic and Wellness. "There's also glucosamine and collagen and you may need that if you have plantar fasciitis and it's in the process of healing. Because what happens is in the plantar fascia, you'll start to get some pronation of your foot or flattening in some individuals and that will cause microtears in that plantar fascia. It's an inflammatory process so it's nice to have that booster that can help with healing. I would highly recommend looking into PodiVite, it's a great supplement for foot pain and inflammation."
PodiVite:
• Supports Healing of Plantar Fasciitis*
• Improves Recovery of Tendonitis and Sports Injuries*
• Helps Restore Ligaments*
• Nutritional Booster for Foot Injuries*
Zen Nutrients products can be found online at ZenNutrients.com, Amazon.com, and DrNutrient.com. For more information, please visit www.zennutrients.com.
About Zen Nutrients
Zen Nutrients is based in the Tampa Bay area of Florida, and is a formulator and supplier of superior nutraceuticals. Zen Nutrients believes in the power of natural medicine and has witnessed the health benefits of the holistic approach. They also believe in pharmaceuticals and the standardization of medicine. Each formula is carefully designed and researched by pharmacists, physicians, and naturopathic doctors. Zen Nutrients knows that the best health outcomes will occur with the meeting of naturally-found ingredients and pharmaceutical-grade standards. Zen Nutrients nutraceuticals are manufactured in an FDA-registered laboratory that follows Good Manufacturing Practices (GMP). The company's complete line of nutritional products includes vitamins, minerals, standardized herbal extracts, amino acids, and enzymes.
Visit:
www.zennutrients.com
today.
Zen Nutrients, Inc. Media Contact:
Nicholas Micciche, Lead Research Strategist, Zen Nutrients
(855) 936-8483
nmicciche@zennutrients.com
*These statements have not been evaluated by the Food and Drug Administration. This product is not intended to diagnose, treat, cure, or prevent any disease.