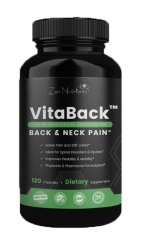 Tampa, FL, January 02, 2018 --(
PR.com
)-- The synergistic proprietary pain blend found in VitaBack contains herbal supplements that work together to ease the pain of sciatica, muscle strain, injuries, or any other form of back or neck pain. By reducing pain and inflammation, they also promote healing of spinal disorders, joint damage, and improve neck or back flexibility and mobility.*
Key Anti-Inflammatories in VitaBack:
• Boswellia: a plant ingredient that improves range of motion and reduces inflammation. The action of this benefit is mainly through suppression of two biological mechanisms: tissue tumor necrosis factor-α (a local chemical signalling protein which is involved in inflammation), and interleukin-1β, an inflammatory response amplifier.
• Devil's Claw: an African herb used as a natural analgesic due to it's anti-inflammatory properties and to treat degenerative disorders of the musculoskeletal system. Devil's claw has been found to scavenge both superoxide and peroxyl radicals, inhibit inflammatory mediators such as iNOS and COX-2 mediated PGE2 production. It is also proven to inhibit biochemicals that cause cartilage destruction.
• White Willow Bark: commonly known as "Nature's Aspirin," has natural anti-inflammatory properties and antioxidant activity.
• Curcumin: the biologically active compound in turmeric, significantly reduces inflammatory chemicals such as TNF and interleukins (IL) in the body.
• Bromelain: a natural anti-inflammatory ingredient found in pineapple, has fibrinolytic, antithrombotic and anti-inflammatory properties. Pertinent to pain relief, it helps reduce swelling and stimulates the growth of tendon cells.
Zen Nutrients VitaBack capsules contain: Boswellia, Devil's Claw, White Willow Bark, Glucosamine, Chondroitin, MSM, Collagen, Hyaluronic Acid, Curcumin, Bromelain, L-Proline, L-Glutamine, Zinc, Magnesium, Manganese, Vitamin C, Vitamin D, and Vitamin B12.
VitaBack is a 100% natural, non-GMO, gluten-free nutraceutical product produced with only the best pharmaceutical-grade ingredients. Made in the USA, all of the Zen products are physician and pharmacist formulated, in an FDA-registered facility, and following Good Manufacturing Practice (GMP) guidelines.
VitaBack can relieve pain caused by the following:*
• Poor posture for long duration
• Weak muscles and lack of core strength
• Improper form with exercise and/or lifting heavy objects
• Excess body weight
• Congenital conditions such as curvature of the spine
• Traumatic injury such as a car accident
• Improper footwear
• Sleeping on a poor mattress
• Inflammatory medical conditions such as arthritis
• Aging of the spine and degeneration
"VitaBack is a great supplement that I have been using with my patients for spinal disc injuries, ligament injuries, and general pain and inflammation. Here in my office, I have used it on patients as young as 20 all the way up to age 72. Patients that are younger doing active crossfit, high intensity workouts, they end up with a slipped disc, VitaBack is great for this. All the way up to my 72-year-old, she is an active swimmer and she started getting sciatica down her leg, VitaBack healed it up in a week and a half," says Dr. Bobby Koser, DC, Seminole Heights Chiropractic and Wellness. "Boswellia and Devil's claw are great, natural anti-inflammatories that don't take a toll on your body like you may have with NSAIDs and other medications. Hyaluronic acid, which most supplements don't have in them, is great for spinal disc injuries and inflammation."
Zen Nutrients products can be found online at ZenNutrients.com, Amazon.com, and DrNutrient.com. To browse some of our other products, or access articles, clinical research and videos, or for more information about our nutritional booster for back and neck pain, visit ZenNutrients.com.
About Zen Nutrients
Zen Nutrients is based in the Tampa Bay area of Florida, and is a formulator and supplier of superior nutraceuticals. Zen Nutrients believes in the power of natural medicine and has witnessed the health benefits of the holistic approach. They also believe in pharmaceuticals and the standardization of medicine. Each formula is carefully designed and researched by pharmacists, physicians, and naturopathic doctors. Zen Nutrients knows that the best health outcomes will occur with the meeting of naturally-found ingredients and pharmaceutical-grade standards. Zen Nutrients nutraceuticals are manufactured in an FDA-registered laboratory that follows Good Manufacturing Practices (GMP). The company's complete line of nutritional products includes vitamins, minerals, standardized herbal extracts, amino acids, and enzymes.
VIsit:
www.zennutrients.com
today.
Zen Nutrients, Inc. Media Contact:
Nicholas Micciche, Lead Research Strategist, Zen Nutrients
(855) 936-8483
nmicciche@zennutrients.com
*These statements have not been evaluated by the Food and Drug Administration. This product is not intended to diagnose, treat, cure, or prevent any disease.