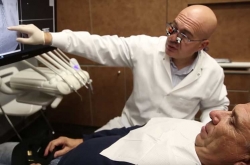 West Sacramento, CA, January 18, 2018 --(
PR.com
)-- Eureka Dental Group finds some people are more prone to cavities and similar issues than others. With offices in Roseville and West Sacramento, their dental services aim to help truckers keep a healthy smile by offering premium dental services at a price all truckers can afford.
Truck drivers can have a tough time keeping up with proper oral hygiene because they are constantly on the road, without a lot of time to care for their teeth. Another big problem truck drivers face is that they have little or no access to quality dental care while on the road. Regular check-ups and cleanings can mean the difference between having a great smile or having chronic dental problems that require expensive treatment. For example, an infected tooth can be easily treated if seen by a dentist right away. But if the infected tooth is allowed to linger, then the infection can spread to other parts of the body.
Even if you don't have any symptoms now, the dentists at Eureka Dental Group can find issues like cavities, plaque build-up, receding gums, and other problems before they begin to seriously affect your health. Further, oral cancer screening is another way a dentist can help truck drivers. Finding early signs of oral cancer can mean the difference between fast and effective treatment or longer treatment and the possibility of the cancer spreading throughout the body.
Eureka Dental Group is trying to help truckers keep a healthy smile by offering premium dental services at a price all truckers can afford. Eureka Dental understands the challenges truckers face and aim to help keep their patients' teeth healthy. Here are just a few ways Eureka Dental Group caters to truck drivers:
- Plenty of parking in their large lot
- Same day treatment, emergencies welcome
- $59 Cleaning, X-Rays, Exam – $284 value. (new patients only)
Even if you have a dental appliance like dentures, you still need to see the dentist regularly to ensure the appliance is still working properly and that you're maintaining good oral health. Eureka Dental Group in West Sacramento has an in-house dental laboratory that crafts dentures customized to each patient. Because Eureka Dental makes and repairs dentures themselves, patients won't have to wait for dentures to come back from an off-site laboratory. Lab technician, Paul Sokil, puts his years of experience to making quality dentures by using both his own artistry and state-of-the-art equipment. For example, during your visit Eureka Dental Group takes both physical impressions of your teeth and do a computer imaging model, so you're getting the best fit and look possible.
If you're driving through the greater Sacramento and are due for a regular check-up and cleaning or need treatment for an ongoing problem, Eureka Dental Group is here to help. Call today at 916-737-5121 or make an appointment on
EurekaDental.com
.