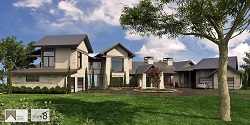 Charlotte, NC, January 12, 2018 --(
PR.com
)--
www.greenfiber.com/customcomfortsolutions
- Greenfiber® and SES, leaders in the insulation industry, have partnered to offer an exciting new approach to home insulation with their Custom Comfort Solutions, highlighted by two projects completed with builders Elev8 and Monte Hewett Homes, and spray foam contractor SEI Group. Custom Comfort Solutions represents a new, targeted approach to 4 key measurements of insulation performance: energy efficiency, sound abatement, comfort, and fire safety.
Together, Greenfiber® Blow-in Cellulose Insulation and SES SucraSeal Spray Foam create the most comfortable environment possible in a modern home, with Guaranteed Performance levels that are sure to get the attention of builders, architects, and homeowners looking to build a safe and quiet home that is 40% more energy efficient.(1) Custom Comfort Solutions guarantees energy savings and assures that home temperatures will be equalized from room to room and across multiple floors.(2)
Custom Comfort Solutions also addresses the important subject of fire safety, with both Greenfiber® Blow-in Insulation and SES SucraSeal adding unique fire blocking qualities. Greenfiber® slows the spreading of flames and provides a 1 hour firewall.(3) With it's unique sucrose based formulation, SES SucraSeal spray foam passes the industry standard Appendix X fire test without the need for additional coatings or restrictive building assemblies, giving designers and homeowners more freedom to build the custom home of their dreams. Both Greenfiber® and SES SucraSeal also exhibit exceptional sound abatement qualities, adding peace and quiet to the whole-home Custom Comfort Solutions package.
Two recent projects, completed with Greenfiber®, SES, and the Custom Comfort Solutions team, highlight the challenges today's builders face in meeting new energy codes: how to pass new energy codes at first inspection, while providing insulation options to homeowners that are both affordable and high performing. As highlighted by the projects, builders are looking for new insulation solutions, as legacy products are quickly becoming inadequate in the face of new energy codes and consumer demand. Monte Hewett, a leading builder in the Atlanta Metro market, was looking for a solution to improve their Air Changes per Hour (ACH) and HERS ratings to meet the new energy standards. "With the type of products we offer our customers, delivering a solution which meets our customers' expectations of performance is our priority," said Aaron Sibly, VP Construction and 22 year veteran of Monte Hewett Homes. "We knew that the legacy products and solutions available were not going to meet our requirements and would not ultimately give our customers the long-term performance and comfort they expect from a Monte Hewett home." According to the project, Custom Comfort Solutions is designed to meet the most stringent performance standards today vs traditional systems and methods which may require added trips, rework or expense to pass the new standards. With traditional systems, inconsistencies in installations can cause homes to fail to meet the building standards while Builders and installers who have used Custom Comfort Solutions have seen a dramatic improvement in their ability to pass code the first time, eliminating costly modifications and delays.
"For today's Builders to be a leader in the market, they are looking for a superior system with highest level of performance and flexibility to pass the new stringent energy standards every time. They not only demand the performance, but need to deliver every home with great energy performance, lower utility bills and superior comfort," said Sim Skinner, CEO of US GreenFiber®.
Working with the technical teams at GreenFiber® and SES Spray Foam, Monte Hewett and SEI Group had access to new tools to help them design a better home with superior performance, sound and quality with a repeatable process. For the professional installers such as SEI Group, a system which can deliver the performance and consistency between installations is key to success. "Working with the team at US GreenFiber® and SES Spray Foam, we now have a partner and solution which replaces our legacy approach on how we provide high performing systems to our customers, said Shan Mize, Operations Manager of SEI Group. Using Custom Comfort Solutions not only has significantly reduced the unnecessary complexity and guesswork in passing the new energy standards when the home is completed but has ensured that each home is completed on time and within budget for our Builders. With legacy systems, we may have to visit the home two or three times extra to ensure it passes the standards which has driven up our costs and added unnecessary delays to the project."
Elev8, a luxury homebuilder in Austin, Texas, focuses on delivering their customers a unique home experience through the use of innovative designs and superior materials, with the ultimate goal of leading the market in building homes that accomplish net zero energy consumption as part of of their Home Of The Future initiative. According to the project, building a net zero home with legacy options is a monumental challenge, especially in custom home design. Elev8 identified areas in the home construction which would allow them to reach their goals including advanced framing techniques, water reclamation, window designs, integrated solar systems and high-performance insulations systems. "The goal was to use solutions, techniques and designs which can be used in virtually any home we build," said Chris Little, CEO of Elev8 Homes. "With the type of luxury homes we construct, our customers are looking for the very best performance of their home, and the GreenFiber®/SES solution is on pace to outperform any other system in the industry hands down."
The Custom Comfort Solutions system not only exceeds new energy codes, it goes further to guarantee comfort and energy savings, all within a system that is affordable for any home design budget. "For today's Builders to be a leader in the market, they are looking for a superior system with highest level of performance and flexibility to pass the new stringent energy standards and drive toward a net zero energy home as Elev8 has done. They not only demand the performance, but need to deliver every home with great energy performance, lower utility bills and superior comfort," said Sim Skinner CEO of US GreenFiber®.
To find out more about Custom Comfort Solutions from Greenfiber® and SES, visit
www.greenfiber.com/customcomfortsolutions or www.sesfoam.com/customcomfortsolutions
(1) To participate in the Custom Comfort Solutions Program, the home must be built to an energy rating of 60 or below on the Home Energy Rating System (HERS) Index. When the program requirements are met, the home will be 40% more energy efficient as compared to a 2006 International Energy Conservation Code compliant home with a HERS Index score of 100. The builder must ensure compliance with applicable building codes and manufacturer requirements. When building in an area with no building code in effect, the builder must comply with the requirements of the current IECC for all items not addressed in the Custom Comfort Solutions Program.
(2) The guarantee is for projected energy use, not dollars. The guarantee applies only to energy used for heating and cooling. The guaranteed usage is calculated by a software program that considers typical energy consumption for heating and cooling in a similar home configuration and will be determined when each home is delivered. The guaranteed usage assumes the home is kept at a temperature no greater than 72 degrees in the winter and no less than 75 degrees in the summer. Actual usage will be calculated by deducting the base load from the total energy usage over a 12-month period, excluding the first month of occupancy. Base load is the average of the three months with the lowest energy usage in the past 12-month period. Any difference in energy use will be paid at resident's current utility rates at the time of the claim based upon actual energy usage over the 12-month period. CCS agent will evaluate the cause of the comfort issue and provide material to repair any defects, CCS Authorized Contractor is responsible to install any material. Guaranteed +/-3% from the center point of the room.
(3) Greenfiber® offers a full breadth of fire assemblies. Based on U305 assembly.