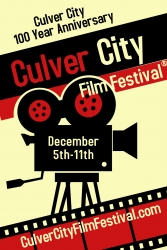 Culver City, CA, January 17, 2018 --(
PR.com
)-- Jon Gursha, the festival director of The Culver City Film Festival is pleased to announce the successful conclusion of the fourth annual Culver City Film Festival which was held at The Cinemark 18 and XD Howard Hughes Center.
The festival ran from Tuesday the 5th to Monday the 11th of December 2017.
The Culver City Film Festival is an annual celebration specifically designed with the primary aim of bringing together a diverse group of filmmakers to share recent works and recognize local talent in a city celebrated for its cinematic history and in-depth cultural values. All of the selected films were chosen in accordance with the standards established by the organizers of the film festival.
During the festival, over 150 films were screened at the Cinemark 18 and XD Howard Hughes Center. The December 11th awards ceremony was hosted by Brad Lemack, noted talent manager, entertainment publicist, career coach, college professor and author.
Over 60 awards were presented to winning independent filmmakers at Gravlax in Culver City. Some of the different categories of filmmaker awards included: Audience Award Documentary, Audience Award Short Film, Audience Award Feature, Grand Prize Documentary, Grand Prize Short, Grand Prize Feature, Best Editing Awards, Best Writing Awards, Social Impact Award, Best Music Awards, Best Action Awards, among others.
For more details about The 2017 Culver City Film Festival, please visit http://culvercityfilmfestival.com or https://twitter.com/culvercityff
Submissions are open on Filmfreeway for 2018 https://filmfreeway.com/CulverCityFilmFestival
2018 will be Culver City Film Festival's fifth year and Culver City Film Festival is a registered trademark.