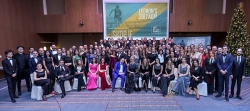 Dubai, United Arab Emirates, January 23, 2018 --(
PR.com
)-- Recent expansion at LEORON saw the company implementing rapid changes that lead to international acclaim. Now, the company deems further departmental organization as crucial to future growth.
More than one hundred employees from six international offices attended
LEORON Institute
's latest annual general meeting.
This year's AGM saw some of LEORON's key people addressing an ever-growing base of employees.
The company, which has undergone a major global expansion during the last few years, deems further departmental organization as crucial to future growth.
LEORON general manager, Arben Jusufi, announced new addition to the team of executives that will be leading two of the most vital departments – the finance and internal audit, and the department of business operations.
Acting as current head of finance, Mr. Artan Bilalli will be leading the finance and audit department as the new director.
"My recent appointment as the new director of internal audit and finance at LEORON signifies two important things: on a personal level, I have been granted the trust to lead a vital department. However, on a corporate level, this means that the company is progressing toward additional maturity and the department will determine key strategic steps in LEORON's future endeavors," stated Bilalli.
Jusufi also appointed current head of department at HR and Leadership, Tatjana Koljovchevska as the new Director of Business Operations – UAE.
"It is with great honor and pleasure that I accept this new position as a Director of Business Operations - UAE. I'd like to thank LEORON management and all colleagues for the continuous support and guidance - we have grown to amazing professionals together! I have been working closely with all teams over the past years and feel very proud to see our organization reach where it is today and to have contributed to our success and countless achievements. Being appointed to this new role is in line with LEORON's mission to support our clients globally and strengthen our presence in UAE even more. We remain strongly committed to providing top notch services to our partners and setting new benchmarking standards within the industry!"
Recent expansion at LEORON saw the company implementing rapid changes that lead to international acclaim. This November, the company was recognized as the first non-US organization to receive ASQ's "Partner in Quality" award - a prestigious prize for their continued promotion of Organizational Excellence through training courses that are directly related to quality improvement techniques and. Earlier during the year, the organization also became approved by HRDF, allowing Saudi nationals to be eligible for full subsidy when enrolling for two of LEORON's project management and internal audit courses.
About LEORON Professional Development Institute
Built upon the strong experience in the manufacturing sector, which its founders developed in Sweden during the 90's global expansion, LEORON evolved into the dominant training institute that offers a comprehensive set of training and development solutions.
Today,
LEORON
is globally recognized as one of the leading educational providers of American and International certification programs.
LEORON's training programs offer a comprehensive suite of knowledge that is accredited by relevant industry institutions. Locally accredited by KHDA and TVTC, whereas our list of global partners includes APICS, APMG International, AFP, IIA, ASQ, PMI, HRCI, IFMA, IABFM, CAIA, CISI, GARP, IACCM, ILM and many more.
To learn more about the LEORON PDI or how you can become involved in LEORON certification programs in your city, please contact Gent Mehmeti at gent.mehmeti@leoron.com or visit LEORON's website at www.leoron.com.
Contact:
22.01.2018 Gent Mehmeti
+971 4 447 57 11 ext. 6030
+966 11 464 48 65 ext. 6030
gent.mehmeti@leoron.com, info@leoron.com