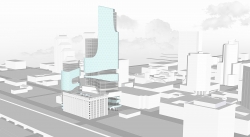 Orlando, FL, February 12, 2018 --(
PR.com
)-- PONTE HEALTH PROPERTIES developer of the new Advanced Care Facility VERTICAL MEDICAL CITY or VMC ORL, has formally submitted the Federal Aviation Authority (FAA) Form 7460-1 Notice of Proposed Construction as of this past Saturday February 10. Form 7460-1 is for the Authority to proceed to an Obstruction Evaluation / Airport Airspace Analysis.
The prime objectives of the FAA are to promote air safety and the efficient use of the navigable airspace, as set forth in Title 14 of the Code of Federal Regulations (14 CFR) Part 77.
In the past, Executives of the Greater Orlando Aviation Authority (GOAA), had informed developer Ponte that approval by the FAA for the Obstruction(s) caused by New Construction would be largely if not solely dependent on the Flight Patterns currently established and enforced by the Authority for the Orlando Executive Airport (FAA ID: ORL; METAR: KORL) Owned by GOAA.
Ponte identified the VMC ORL ideal location based on both Downtown Core and Executive Airport conditions; ORL runways in operations are Runway 7/25 with Headings 073 Magnetic and 067 True on 7 and Headings 253 Magnetic and 247 True on 25, and Runway 13/31 with Headings 137 Magnetic and 131 True on 13 and 317 Magnetic and 311 True on 31. Aircraft operations in the Airport average 300 per day, about 58% of which is Transient Aviation, and the majority of which are Single Engine Aircrafts; less than 1% of ORL use is Military.
PONTE HEALTH PROPERTIES has electronically submitted Form 7460-1 to the Federal Aviation Authority (FAA) specifying three distinct heights for approval: (1) "Tower A" Critical Care Tower to a Height of 300 Feet, (2) "Tower B" Non-Critical Care Tower to a Height of 540 Feet, and (3) "Tower C" Life Tower to a Height of 450 Feet; Towers B and C both exceeding the current skyline; proposed Start of Construction was presented as July 1, 2019.
Determination is expected to be made in the next 45 to 60 days, unless FAA requires further information from the developer at which point they will make its requests electronically, through the OE/AAA webpage.
For more information about the project email : verticalmedicalcity@icloud.com