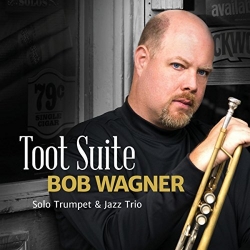 Philadelphia, PA, February 16, 2018 --(
PR.com
)-- Jump City Music is thrilled to announce the release of the debut solo album from trumpeter Bob Wagner. Toot Suite will be available in physical form and as a digital download from
Wagner's website
as well as all major digital music distribution platforms (iTunes, Amazon, etc.).
Toot Suite, written by composer/pianist Claude Bolling, merges creative improvisations, jazzy syncopations and beautiful melodies throughout six separate, but musically related movements. Originally recorded in 1980 by Bolling and virtuoso French trumpeter Maurice André, Toot Suite's opening lines will be instantly recognized by many as the theme for NPR's popular, long-running Diane Rehm Show.
In selecting Toot Suite as the music for his debut project, Wagner had to overcome some initial doubts: "Despite being recognizable and enjoyable for the listener, the piece is so difficult for the trumpeter that it is rarely performed or recorded in its entirety."
In fact, Wagner is the first American-born trumpeter to ever produce a commercial recording of the complete Toot Suite. Further, in addition to André, for whom the suite was written, Wagner joins virtuoso trumpeters Eric Aubier and Arturo Sandoval as only the fourth soloist to ever produce a complete recording of "Toot Suite" since it's premier in 1980.
Wagner continues, "I was excited for the chance to revive this wonderful music, but, also a little nervous to follow in the footsteps of the few trumpeters who've ever dared to tackle this album-length masterwork."
Wagner is joined on this ground-breaking album by pianist Peter Hilliard, bassist Ranaan Meyer and drummer Sean J. Kennedy.
"Extreme versatility is also required of the jazz trio," offers Wagner. "They must quickly switch gears through a variety of jazz styles and also capture the subtleties of some highly nuanced chamber music."
In discussing the project, Wagner speaks proudly. "We setup a tour to work out the kinks before taking Toot Suite into the recording studio. It was a ton of work, but I'm really proud of the finished product."
Accomplished classical and jazz musicians agree that Wagner deserves applause for his solo debut: "This is some of the best trumpet playing I've heard in years," writes Frank Kaderabek, retired principal trumpet of the Philadelphia Orchestra. Jazz bassist Gerald Veasley adds: "Bob has created a well-crafted debut recording. His bold tone and polished technique shine throughout."
Bob Wagner - Toot Suite
Allègre
Mystique
Rag-Polka
Marche
Vespèrale
Spirituelle
Bob Wagner - Solo Trumpet
Peter Hilliard - Piano
Ranaan Meyer - Bass
Sean J. Kennedy - Drums
Recorded, Mixed & Mastered by Alfred Goodrich at Silvertone Studios, Ardmore PA