Michigan Inventor to Exhibit Steam Valet® at 2018 International Home and Housewares Show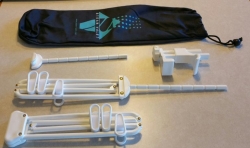 Canton, MI, February 25, 2018 --(
PR.com
)-- Canton MI, Farris Co. Inc., announces that Anthony Farris, from Canton, Mich., has invented a way to steam clothes easily. This patented invention will be exhibited at 2018 International Home and Housewares Show, March 10 -13, in Chicago, IL, at the McCormick Place. The Steam Valet will be exhibited in the Inventor's Corner at Booth #N7362.
The Steam Valet® is a garment steamer accessory tool that makes steaming clothes quick and easy. With its 360-degree turning ability, the Steam Valet® attaches to a door frame or shower rod or bar and the Steam Valet® can be raised or lowered approx. 7" making it ideal for steaming garments with ease.
The inventor designed the Steam Valet® because of his own experience. "I needed a better way to hang my clothes while using a garment steamer that would be quick, convenient and easy," said Farris. "This product can be used easily in any home or business or when traveling. Large and Small retailers and clothing stores could use it also."
For more info on the Steam Valet® you may visit: www.Steam-Valet.com, visit their booth #N7362 or contact Tony at 734-644-0617.
Farris Co. Inc. is exhibiting at 2018 International Home and Housewares Show with the hopes of finding a licensee, distributor, manufacturer, venture capital or retailer. 2018 International Home and Housewares Show, this is a unique trade show that showcases 1000's of new products and innovations that are available to business and industry to manufacture, license or distribute.
In addition, this show will host more than 2,100 exhibitors from around the world, including 400 new companies exhibiting for the first time. Farris Co. Inc. will be exhibiting as a first time exhibitor.
As part of the IHHS show, Tony Farris will be discussing certain aspects of his journey in inventing and developing the New Revolutionary Steam Valet® on March 12, 2018 at 10am to 10:30am at Booth #N7362.
In addition, there will be demonstrations on how the Steam Valet® works on March 10, 2018 at 10am to 10:45am and on March 11, 2018 at 1:00pm to 1:45pm at Booth #N7362.
Also during the show there will be a special offer discount on the pricing for the Steam Valet®. Stop by the Booth and claim your special offer.
To register for a Show badge, visit www.housewares.org. To view the entire Show lineup, download the Show's mobile app, IH+HS 2018 from m.housewares.org, or visit www.housewares.org and search Housewares Connect 365 to download a complete list of 2018 exhibitors as well as to view floor plans, product catalogs, new product photos and videos and complete company contact information for each exhibitor.
Contact
Farris Co. Inc.
Anthony Farris
734-644-0617
www.steam-valet.com

Contact