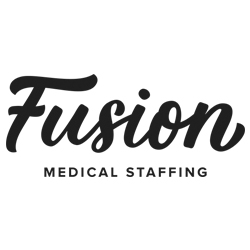 Omaha, NE, March 01, 2018 --(
PR.com
)-- "It's not 'What' we do, but 'How and Why' we do it." - Sam Wageman, President
Staffing Industry Analysts (SIA) announced Wednesday, February 28, 2018, at their Staffing Industry Executive Forum North America in Miami Beach, Fla. that Fusion Medical Staffing was the Grand Prize Winner of "Best Staffing Firms to Temp For" in North America. Winners are categorized into five groups based on the number of their internal employees. Fusion Medical Staffing won Grand Prize in the 51 to 200 category, as well as the overall Grand Prize for 2018 "Best Staffing Firms to Temp For" In North America.
"Winners on this year's Best Staffing to Work For list are committed to creating an environment that helps their workers reach their potential, professionally and personally," said Subadhra Sriram, editor and publisher, media products at SIA. Fusion works diligently to maintain an environment that allows employees to achieve that and more. Sam Wageman, President of Fusion Medical Staffing is passionate about creating an atmosphere that drives employees to work hard, but remain humble. "We focus on our 'How and Why' every day. This sets us apart and allows us to be a strong family driven company. A growing industry means employees and medical travelers have many options to choose from. Fusion stands out because of our passion to provide medical facilities with the highest quality medical professionals. To do that, we must employ the best sales and operation staff in the industry. Our employees understand that we do this work to help make the world better. We believe in the need of high level medical care for everyone. By building relationships and trust with medical professionals and clients, we achieve the results we are proud of. It's not 'What' we do, but 'How and Why' we do it that has allowed us to get here." SIA is clear about the quality that is expected of firms that are awarded these honors. "Gone are the days when it was just about careers and 80-hour work weeks. Staffing firms must adopt a holistic approach that extends to the home. The successful staffing firms are those that allow employees to take off early to watch their kid's baseball game or be there for a piano recital," Sriram explains.
Founded in 2009 with the idea that Medical Staffing could be done better, Fusion now sees the fruit of their labor. If employees are treated well, they will do well.
Fusion grew 29% in 2017 while maintaining a high level of production and positive company culture.
Fusion is passionate about helping the Omaha community by providing over 50 volunteer opportunities throughout the year for employees and their families to participate in.
Fusion offers extensive company wellness opportunities that focus on physical and mental health.