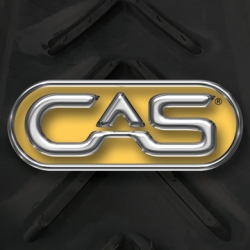 Eugene, OR, March 03, 2018 --(
PR.com
)-- Conveyor Application Systems (www.slingers.com) is pleased to announce that the tier 4 engine conversion is complete and the first of the new AT7 Tier 4 Slingers are rolling off the assembly line. The highly successful CAS® AT7 boasts a powerful CAT® Tier 4 engine, which generates well over 200 horsepower. Widely known as the first unmanned, off-road & wirelessly remote controlled Slinger, the AT7 packs big "slinging" power in a trailerable size. Among all types of Slinging equipment, the AT7 is the only Slinger that boasts an all-wheel, independent drive system that can handle a variety of off-road terrains and has a Slinging distance of up to 160 feet. The AT7 is perfect for contractors that need to place material beyond the pavement.
Don Lindsey, Director of Marketing for Conveyor Application Systems stated: "This conversion was the most difficult of all previous engine conversions and took a lot of extra work, but our Head Engineer-Dave Looney and the CAS® operations team, worked tirelessly until they found the perfect balance between our customers' needs and the government's requirements. The end result is an upgraded robust off-road Slinger package that will outperform any Slinger in the industry. Furthermore, as the only Slinger manufacture located right here in the United States of America, our customers can take pride in knowing that their CAS® Slingers were manufactured here in the homeland by hard-working Americans!"
Watch the AT7 in action here:
https://www.youtube.com/watch?v=O6_1UeLVgjQ
Conveyor Application Systems (CAS®), based in Eugene, Oregon, is a leading manufacturer of on-road, off-road, and reload conveyor "Slingers" in the world and is the only Slinger manufacturer located in the United States of America. CAS® is owned and operated by a third generation at Rexius Corp., www.rexius.com, which is a nationally recognized, full-service provider of landscape materials and services.
When you partner with CAS®, YOU become part of our family!
For more information about the new tier 4 AT7, contact Conveyor Application Systems CAS®, or visit us here:
Home Office: Eugene, OR: 1-888-279-4227
Online: www.slingers.com
Instagram: www.instagram.com/slingertrucks
Twitter: www.twitter.com/CAS_20_04
Facebook: www.facebook.com/conveyorapplicationsystems
What Can We Build For You?