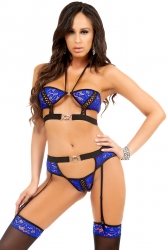 Los Angeles, CA, March 03, 2018 --(
PR.com
)-- Musotica has launched their latest lingerie collection for spring and summer 2018, inspired by adult entertainers in the strip clubs of Atlanta, Los Angeles, Miami and Vegas.
The newest collection from the online lingerie and fashion website consists of bright and bold items. These erotic and exotic pieces have evolved from the traditional with multi-functional wear and designs.
These items are inspired by the most popular strip clubs in the US and the girls who work within them. These unique lingerie looks have taken the world of social media by storm.
The new designs include edgy, seductive and pretty twists. Materials include denim, lycra and crochet pieces, all of which offer transitional wear, be it in the bedroom, at a nightclub, in select sports or even at the poolside.
When asked about the latest collection, Musotica's founder and celebrity stylist, Sarah Wallner said: "Multi-functional lingerie just makes life that bit easier; it offers a fully adjustable design and thus the perfect fit."
"When lingerie fits well and looks great, it simply empowers women. Allowing their confidence to soar," Sarah added.
The new styles embrace this multi-functionality with adjustable straps, ribbon bow ties and working buckles to offer a more secure fit. Some pieces even offer lining, so can be used to swim.
In addition, stripper culture is emulated within the designs, inspired by the looks of popular clubs such as Ace of Diamonds. These pieces feature cinches, high waisted garter belts, sets with garters, harness lingerie styles and removable pasties.
Sarah notes that these additions offer a more flattering figure and Musotica are excited to offer these new designs and styles within their latest offering. They hope it will inspire their customers to try something new and even encourage something a little taboo in the bedroom.
Get inspired further with their latest erotic and exotic lingerie collection and blog post: How to embrace your inner stripper in erotic and exotic lingerie.