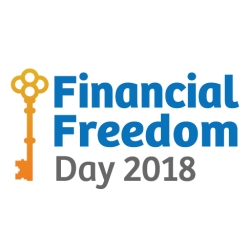 San Diego, CA, April 04, 2018 --(
PR.com
)-- Financial Freedom Day, the city's premier financial education event, kicks off on Saturday, April 28. The Financial Freedom Day Speakers are donating their time and money to give back to their communities. San Diegans will have numerous opportunities throughout the day to gain knowledge, tools and resources to help improve their financial future.
Financial Freedom Day offers free workshops for various age groups, income levels, and financial backgrounds. The annual event provides opportunities to learn about financial topics such as establishing a budget, understanding credit reports and credit scores, how stress can impact health, first-time home buying and estate planning. The event will be held at 201 North Broadway in Escondido City Hall, Mitchell Conference Room. All workshops are free and open to the public. The program is designed to reach a wide variety of audiences, from those that are just starting out in the workforce to military veterans. Local Businesses and Community Organizations are supporting this event and are donating prizes to be raffled off.
"This important community initiative offers individuals and families across San Diego, not just North County, much needed access to financial education resources and builds awareness of the need for financial education," said Chandra Adusei of Elise Financial Services, organizer of Financial Freedom Day. "The Financial Freedom Day Partners and Sponsors are excited to offer local residents the tools and resources they need to reach their financial goals, both today and in the future." The key to long-term financial success is having the knowledge and skills to make informed and smart financial decisions. To learn more about Financial Freedom Day and attend a workshop within the schedule of events, register at ffd2018.eventbrite.com.
About Financial Freedom Day
Financial Freedom Day is an annual day-long financial education event during National Financial Literacy Month. Partners include local San Diego businesses, nonprofits, and community service organizations. The initiative offers free financial education workshops for individuals and families across San Diego and surrounding areas, for various age groups and demographic backgrounds.