Morae Global Announces New Midwest Director Chuki Obiyo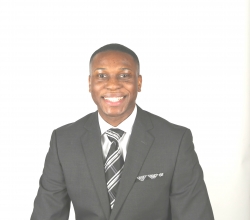 Chicago, IL, April 09, 2018 --(
PR.com
)-- Morae Global is pleased to announce and welcome Chuki Obiyo as Midwest Director and Executive Advisor. Chuki will help manage the firm's business development efforts across the U.S. Midwest Region, and he will be responsible for cultivating new client relationships and creating customized solutions to meet clients' needs.
"Excited to welcome Chuki Obiyo to help us grow in the Midwest," says Brian Stearns, Managing Director at Morae Global. Chuki has more than 13 years of experience directly supporting C-level executives and business leaders at Fortune 500 companies and Am Law 200 firms. Prior to joining Morae Global, Chuki served as Executive Advisor and Mid-Market Account Executive at LinkedIn Corporation (the world's largest professional network), where he established a business development initiative for Am Law 200 law firms and legal professionals which increased YOY revenue and engagement.
He also worked as Executive Advisor and Director of Finance & Strategy Practice with CEB (the leading Fortune 500 member-based advisory firm), where he helped over 150 companies exceed business goals by introducing transformation solutions sustained by industry best practices.
Transformation is no longer an option for the industry, it is now an obligation. Chuki grew up in a village in Africa where people live on less than $1 a day, so the power of transformation has been present throughout his life. When he is not in front of a computer or on the phone helping clients transform their law departments, you can find him and his wife jogging by the lake, or you might spot him hand-washing the dishes at home (for relaxation), or maybe even playing a game of classic Scrabble with the wooden tiles and letters. Chuki earned his J.D. from Northwestern University School of Law and his B.A. from The University of Texas at Austin.
About Morae Global Corporation
Morae Global Corporation is comprised of a seasoned team of professionals who help the Office of General Counsel, Chief Compliance Officers, and law firms improve business performance by developing strategy, creating processes, deploying people, leveraging technology and measuring with data in order to deliver results. The company's core service offerings include management consulting, alternative legal resources and information and discovery management for the legal industry. More information can be found at http://www.moraeglobal.com.
Contact
Morae Global
Chuki Obiyo
312.767.9516
moraeglobal.com

Contact