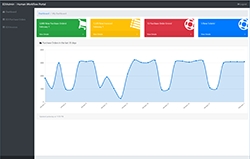 Minneapolis, MN, April 17, 2018 --(
PR.com
)-- EDIAdmin announced today that it has officially released an enhanced
supply chain vendor portal
solution to retail and supplier clients. The vendor portal, featuring automated onboarding, transaction management, and product information management, among other features, has a new look and feel and a streamlined user experience that EDIAdmin expects will simplify order-to-cash and purchase-to-pay operations, leading to measurable ROI gains.
Along with a streamlined user experience comes enhanced dashboard capabilities, including a vendor scorecard, geographic heat maps, and transactional volume statistics.
"We're very excited to release our feature rich vendor portal to clients," said Ian Redlin, President and Founder of EDIAdmin. "The solution always had a ton of functionality, and now we're making it easier for vendors to auto-provision and dictate their own communication preferences, along with providing more graphical data representations that will allow for quicker digestion of information."
The vendor portal is powered by EDIAdmin's CHIP iPaaS cloud platform, allowing for end-to-end integration for retailers and suppliers all the way to and from their ERP systems, while enabling their vendors and customers to transact efficiently regardless of company size. At the same time, error handling and data enrichment tools ensure that IT and business users aren't bogged down with the type of manual intervention and corrections that prohibit scalability.
As a cloud service, the solution is outsourced and managed, reducing the capital and resource burdens normally associated with stand-alone, on-premise vendor portal systems.
Additional information, including demo opportunities, can be found at ediadmin.com/vendor-portal.
About EDIAdmin
EDIAdmin was founded in 2002 with the goal of providing solutions for the growing complexity and administrative headaches associated with business process integration and automation. Located in Minneapolis, MN, EDIAdmin combines a cloud-to-ground iPaaS platform with collaborative managed services to bridge the B2B integration divide and ease friction between IT departments and their business communities. Clients include mid-size to Fortune 500 businesses in the retail, manufacturing, distribution, 3PL/Logistics, and automotive industries.