Bad News for Burglars; Super Grip Lock (SGL) Partners with the National Neighborhood Watch (NNW)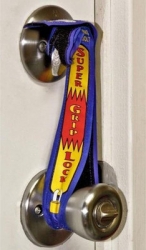 Sweet Home, OR, April 18, 2018 --(
PR.com
)-- Reported Home Burglaries are up to 2,000,000 a year in the USA about half go unreported and bump-keys, passkeys, pass-cards, lock-picks and duplicate-keys threaten the security of families and travelers in nearly every community in America.
Now, there is a simple new way to protect yourself called Super-Grip-Lock. It's an inexpensive durable deadbolt strap that locks-down the deadbolt handle when locked and stops anyone from unlocking your door at home or when staying in a hotel or motel. It works on most deadbolts and insures the door stays locked even if the intruder has your key.
The SGL/NNW Partnership was formed as a public service to get the word out and to make it easy for families and travelers to protect themselves. The NNW is getting the word out to 60,000+ Neighborhood Watch Communities in hopes to benefit millions as the public learns about Super-Grip-Lock.
Twenty-five percent (25%) of every product sold either on the SGL or NNW website will be donated to buy bullet-proof vests for Police Officers who need them. Learn more about the National Sheriffs' Association Bullet-Proof-Vest-Program go to: www.sheriffs.org/content/protect-protector.
If you would like to know more about SuperGripLock.com or want to make sure your deadbolt stays locked, Super Grip Lock invites you to visit their website or the National Neighborhood Watch Website: https://nnw.org where you can order the most needed security product in America today.
Contact: Ron Moore/CEO, Super Grip Lock, 548 50th Avenue, Sweet Home, OR 97386 Phone: 541-378-4533
Note: The National Neighborhood Watch, fighting crime since 1972.
Contact
Super Grip Lock
Ron Moore
541-378-4533
www.supergriplock.com

Contact