The 3rd Annual Silicon Beach Film Festival Schedule Announced
Silicon Beach Film Festival announces schedule and events for 2018. The Festival to screen over 160 Independent films from around the world in Los Angeles.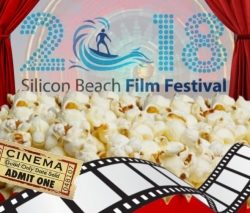 Los Angeles, CA, April 18, 2018 --(
PR.com
)-- It's that time of the year again to soak in the magic of independent cinema. The schedule for the 3rd Annual Silicon Beach Film Festival has been announced. The festival will be held between April 22-30, 2018, with screenings at Cinemark 18 & XD at the Howard Hughes Promenade, Los Angeles.
The Silicon Beach Film Festival has brought to limelight scores of indie filmmakers in the past, and this year's edition will be no different. The festival kickoff party will take place on Sunday April 22nd at the Rush Street Bar and Restaurant, 9546 Washington Boulevard, Culver City. Film screenings will begin Tuesday, April 24 and will continue until Sunday, April 29.
A highlight of this year's festival is the opening night panel on how to make a movie, to be held before the kickoff party at Rush Street, Culver City, on Sunday, April 22 at 6PM. The expert led panel will be a hands-on guide to physical production, use of the latest technologies and the most relevant digital workflows to produce a film - from acquisition through distribution.
The panel presentations will be led by Eliot Mack (Production and VFX), founder of Lightcraft Technology and behind the Emmy Award winning "Previzion" and Halide FX virtual studio systems; David Courtice (Picture Editorial and Finishing), founder of DC Creative Inc; Christian Gecosala (Sound Design, Sound Editorial & Mixing), part of A.G.E. and behind full-service post audio services for several award winning TV series, films and ad campaigns; and Ted Rosenblatt (Film Distribution and Sales), President of PFG Entertainment with over 25 years of experience in international, independent film sales and licensing. The panel will be moderated by Kenneth Yas, who has worked at senior roles for Sony, Lucasfilm, The Post Group, Hanna Barbera Cartoons among others, and has managed seminal moments related to transformational technologies in film and TV production.
Silicon Beach is a well known technology and film hub, and plays host to an array of digital filmmakers and studios, apart from offering a relaxing and sunny beach extending miles along the coast. The festival is the product of Jon Gursha & Peter Greene, who also organize the Marina del Rey and Culver City Film Festivals.
Among the new premiers this year, the festival will showcase the LA premiers of films such as the romantic comedy "No Doubt" (April 24); Cracking Aces (April 25), the story of a pioneering woman poker player; the thriller "M.I.A A GREATER EVIL" (April 26); coming of age comedy "Happenstance" (April 28), as well as a special shorts program featuring director Amr Al-hariri's award winning film, Silent Love Stories (April 29, 6pm).
The Awards ceremony and closing party this year will be held on the poolside at The Custom Hotel, 8639 Lincoln Boulevard, Los Angeles.
For full festival schedule, film descriptions, and more information, including individual screening tickets:
http://siliconbeachff.com/
Follow the festival on Facebook, Twitter, and Instagram.
About Silicon Beach Film Festival
The Silicon Beach Film Festival is an event organized by Jon Gursha and Peter Greene, the creators of the Marina Del Rey Film Festival, Culver City Film Festival, Silicon Beach Film Festival, Playa Vista Film Festival and Silver State Film Festival. Silicon Beach Film Festival is a registered trademark. The film festival is organized to promote up and coming independent filmmakers from around the world.
For more information, please visit: siliconbeachff.com
Media contact:
Jon Gursha
Silicon Beach Film Festival
4640 Admiralty Way Suite 500
Marina del Rey, CA 90292
Phone: 818-633-5404
Contact
Silicon Beach Film Festival
Jon Gursha
818-633-5404
siliconbeachff.com/

Contact