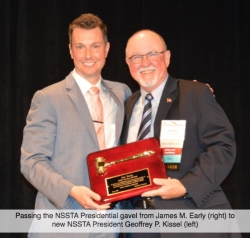 Washington, DC, April 25, 2018 --(
PR.com
)-- The National Structured Settlements Trade Association (NSSTA) is pleased to announce Geoffrey P. Kissel, Assistant Vice President at Pacific Life Insurance Company is installed as the new NSSTA President. Kissel, who is from Orange County, California, has more than 15 years experience working in the financial services industry with structured settlements consultants. Kissel, who will serve the 2018-2019 term as NSSTA President says, "It's an honor to be part of a leadership team that advocates on behalf of personal injury claimants and their families through the use of periodic payments. I look forward to engaging our membership and the committees for more active participation in the year ahead!" Looking forward, Kissel emphasizes the mission in NSSTA's strategic outlook is to promote growth and preservation of structured settlements to provide long-term financial security to personal injury claimants and their families.
Michelle Caine, J.D., LL.M, Director of Relationship Management and Market Development at Prudential Financial in New York City, was announced at President-Elect. Caine, who has served on the Board of Directors since 2014, will be the second woman to serve in the capacity of NSSTA President, when her term begins in 2019. "I'm excited for this leadership opportunity. I look forward to working closely with Geoff Kissel, the Board and NSSTA membership to promote the use of structured settlements and help physical injury claimants achieve financial security."
Caine's election and the election of two new NSSTA Board members were announced during the NSSTA Annual Meeting held last week in Nashville, Tennessee. NSSTA Executive Director, Eric Vaughn added, "The NSSTA Annual Meeting was a huge success, not only with the addition of such strong leaders, such as Geoff Kissel and Michelle Caine, and two new Board members, but also with exciting member engagement as was evidenced in our educational, legislative, legal, judicial and leading edge innovative business sessions."
The two first-time NSSTA Board members are Susan R. Clark, CSSC, Senior Vice President at Millennium Settlement Consulting in Austin, Texas, and Louis E. Masry, Senior Settlement Consultant at Millennium Settlement Consulting in Van Nuys, California.
About NSSTA: Since 1985, the National Structured Settlements Trade Association (NSSTA) has been the leading voice of the structured settlement industry, representing more than 1,200 professional structured settlement consultants, life insurance industry leaders, property casualty company claims officials and lawyers from across the United States and Canada. For more information, please visit our website at www.nssta.com.