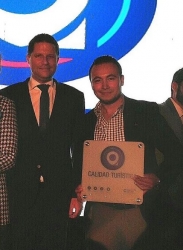 Quito, Ecuador, April 26, 2018 --(
PR.com
)-- Ecuador Bike Rental by Sleipner was awarded last week with the Q Batch in Quito by the mayor of the city, in a ceremony that took place with the best tour operators of the country.
It is a recognition granted by the municipality through the Metropolitan Public Enterprise of Tourism Destination Management Quito, to tourist establishments that have implemented management systems of sustainable tourism and service quality, to offer tourists first class services, with an organized and trained team that works together to elevate the quality of the tourism offer in Ecuador.
Today, through the common effort of entrepreneurs and Quito Tourism, tour operators are improving their service, management, and passing a technical verification that includes the environmental, social, and legal compliance based always on business and quality parameters.
"It has been about a year of hard work since we heard about the certification to have everything in order," said the spokesman and owner of Ecuador Bike Rental by Sleipner, David Garces. "Having the support of this state agencies has benefited us a lot when negotiating prices with our local suppliers: hotels or agencies in charge of local activities, and therefore lower the costs of our products to promote this rides in Ecuador," he added.
"This recognition is not easy, the administrative social and environmental management involved needs to meet the highest standards in the country," says Bryan Villamil, commercial manager in the motorcycle rental company.
The award can be seen at their headquarters in Quito. On their website,
www.ecuadorbikerental.com
, is a lot of information about their motorcycle packages, rentals, and monthly deals, and as part of their responsible tourism, they came up with a special tour that gathers professionals in different areas: doctors, dentists, mechanical engineers, electrical engineers, to ride towards the villages and tribes that lack this assistance in order to aid in their needs.