Lee Strobel Speaks at Plumstead Christian School's Eighth Annual Founders Forum & at Plumstead Christian School's First-Ever Multi-School Assembly
Each year Plumstead Christian School invites a nationally known Christian whose faith informs the way he or she lives. The 2018 Founders Forum keynote speaker is a New York Times bestselling author, teaching pastor, college professor, and former award-winning editor of the Chicago Tribune. Plumstead Christian School (PCS) also hosted a multi-school assembly with nine other school groups from the region joining the PCS students for worship and to hear from Lee Strobel.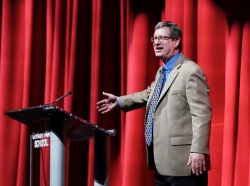 Plumsteadville, PA, April 25, 2018 --(
PR.com
)-- On Monday evening, April 23, 2018, Plumstead Christian School (PCS) held its eighth annual Founders Forum with keynote speaker Lee Strobel. Lee is best known as a New York Times bestselling author of over twenty books including The Case for Christ, which tells the story of his journey from atheism to Christianity. Lee Strobel participated in a question and answer session for 165 guests at a sponsorship dinner that preceded the main event. Mark Swartley, this year's Founders Forum featured alumnus (class of 1985) and current executive director of Spruce Lake, moderated the question and answer session. Spruce Lake, a Christian Retreat and Conference Center in the Poconos Mountains of northeast Pennsylvania, was the Founders Forum ministry spotlight for the evening.
During the main event, Strobel presented a strong case for Christian education in today's culture and shared his optimism for the good that this generation of students will be able to accomplish throughout their lifetime. His talk was followed by a question and answer session moderated by PCS headmaster, Patrick Fitzpatrick. Robert "Bob" Cooper, retired Director of Transportation, was honored during the evening as an honorary founder to celebrate his almost thirty three years of faithful service.
On Tuesday morning, PCS hosted its first ever Multi-School Assembly where Strobel shared compelling evidence for the historicity of Jesus Christ's resurrection, which he referred to as the "linchpin of the Christian faith." This was followed by a question and answer session moderated by PCS Bible teachers Matt Ogden and Seth Mangum.
"Students from different schools typically only get together for competition," said headmaster Fitzpatrick. "It was great to see over 700 students from ten area school groups come together to worship and learn. It was a very unifying experience."
The following schools joined PCS fifth through twelfth grade students: Calvary Baptist School (Lansdale, PA), Crossroads Christian School (Clinton, NJ), Davisville Homeschool Co-Op (Greater Philadelphia region), Delaware County Christian School (Newtown Square, PA), Faith Christian Academy (Sellersville, PA), Greater Grace Christian Academy (Baltimore, Maryland), LeHigh Valley Christian High School (Allentown, PA), Quakertown Christian Academy (Quakertown, PA), Salem Christian School (Macungie, PA), and Wilberforce School (Princeton Junction, NJ).
Special thanks to Covenant Bank of Doylestown for sponsoring the Multi-School event on Tuesday and to the many who sponsored the Monday evening Founders Forum. Their generosity made these events possible.
About Plumstead Christian School
Plumstead Christian School (PCS) is in its 70th year as a Christ-centered, nondenominational, college preparatory school that serves preschool through 12th grade students on two spacious campuses in Bucks County, PA. The school's mission is to provide a caring community where students are educated to think biblically, serve effectively, and lead Christ-centered lives. Through the years PCS has developed a solid reputation in academics, athletics, and the arts. Ninety-eight percent of all recent graduates attend four year colleges and universities, and many students earn college credit – top students as much as forty five credit hours through the extensive Advanced Placement courses and dual enrollment courses (through Cairn University) offered at PCS. Recent graduates have been accepted to a variety of top ranking schools including Drexel University, Gordon College, Grove City College, Lehigh University, the Massachusetts Institute of Technology, Taylor University, Temple University, the United States Air Force Academy, the University of Pennsylvania, Wake Forest University, Wheaton College, and Villanova University.
The school is known regionally for its Founders Forum, a speaker series that has recently been designated The Best Fundraiser in the region by the readership of the Intelligencer. Founders Forum attracts some of the most influential Christians of our time. In recent years the school hosted former governor of Alaska Sarah Palin, President George W. Bush, Tim Tebow, Dr. Ben Carson, Al and Phil Robertson of A&E Duck Dynasty fame, Steven Curtis and Mary Beth Chapman, Eric Metaxas, and professional quarterback Carson Wentz.
Contact
Plumstead Christian School
Patrick Fitzpatrick
215-766-8073
pcspa.org

Contact