Blockchain International Show Will Present Latest Developments in London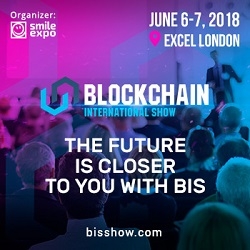 London, United Kingdom, May 03, 2018 --(
PR.com
)-- On June 6-7, Smile-Expo will hold
Blockchain International Show London
, the major event in Europe, devoted to Blockchain technologies, their implementation in various industries, and the use of cryptocurrency.
The event will last for 2 days and will be divided into 2 parallel sections. The first one will cover financial and regulatory questions, while the second will address tokenization and ICO. During the conference, 60 industry experts from major corporations in different countries will deliver speeches and presentations covering blockchain issues. Discussions will take place in two conference halls, where speakers will talk about decentralization, its impacts on industries' functioning and potential possibilities of profit-making. Among the discussed topics will be connection between crypto and traditional financial worlds, prospects for cryptocurrency development, tokenization, and traditional industries' disruption by blockchain. Invited specialists will also participate in the panel discussions where they will provide real-life examples and case studies for deeper understanding of blockchain technology adaptability to the real world.
Speakers:
· Sally Eaves - Emergent Technology CTO, Global Strategy Advisor – FinTech, Blockchain AI, Forbes Technology Council
· Michael Mainelli - Executive Chairman at Z/Yen Group
· Spiros Margaris - Influencer and Venture Capitalist, Senior Advisor at Arbidex
· Iman Multaq - CEO at Sigma Investments
· Kambiz Djafari - CEO and Co-founder at Edgecoin.io
· Jan Sammut - CEO at RefToken & Blockchain & cryptocurrency investor and ICO advisor
· Jimmy Nguyen - Chief Executive Officer, nChain Group
· Bogdan Malesa - Founder of Universal Crypto
· Arnab Naskar - CEO SICOS (LUX) S.C.S.
· Lex Sokolin - Global Director Fintech Strategy & Partner at Autonomous Research
· Richard Kastelein - Co-founder at Cryptoassets Design Group
· Marloes Pomp - Program Officer Blockchain, Dutch Government
· Glen Goodman - Investor and former TV Business Correspondent
· Liliana Reasor – Founder and CEO at SupraFin
· Jed Grant - Founder and Architect at Peer Mountain
· Kendrick Nguyen – CEO at Republic
· Ismail Malik - Editor In Chief at ICO CROWD
The speaker list is constantly expanding and developing. The latest updates are available on the website.
Blockchain Conference London will include the exhibition part, where 100 companies and start-ups will present newly-developed products and solutions that have not been seen before. The exhibition will have a hardware department providing space for exhibitors to introduce innovative mining equipment and storage devices. It will contain the lecture zone and networking area as well.
The event will be visited by a huge number of business representatives, large institutional investors, developers, blockchain start-ups, FinTech professionals, technical advisors, development and marketing managers and industry enthusiasts.
The conference enables a high level of interaction with blockchain experts, product promotion and new business opportunities establishment.
London Conference 2018 expects 2000 participants, and will be held in London International Exhibition Centre Plc.
The event is planned and arranged by the international company Smile-Expo which holds Blockchain Conferences in many countries.
Contact
SmileExpo
Yuliia Leschenko
+442033186491 (ext. 167)
https://bisshow.com/

Contact