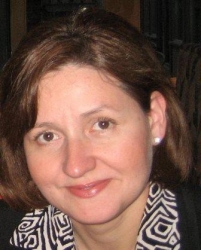 Omaha, NE, May 01, 2018 --(
PR.com
)-- About Dr. Rodica Elena Petrea
Dr. Rodica Elena Petrea is an Assistant Professor of Neurology at Creighton University School of Medicine. Dr. Petrea is Board Certified (American and Romanian boards) in Neurology. She received her medical degree from Carol Davila University of Medicine and Pharmacy in Bucharest, Romania, and completed a Fellowship in Neurology as well as Vascular Neurology at Boston University Medical Center. Dr. Petrea is a Diplomate of the American Board of Psychiatry and Neurology. She is the recipient of numerous honors and awards including America's Top Physicians from the Consumers Research Council in 2013, 2014, and 2015. Dr. Petrea is the recipient of the 2017 Top Doctor Award, Top Neurologist and Vascular Neurologist in Omaha, Nebraska, which is certified by patients' surveys. She is a 2nd prize winner for Clinical Vignettes from the Massachusetts Medical Society's Second Annual Research Poster Symposium and the 1st prize winner for platform presentation in Bucharest, Romania. She is the 2000-2001 winner of a Pont Neuf Association Neurology scholarship in Paris, France. Dr. Petrea is the author of numerous peer-reviewed publications, papers, posters, presentations, book chapters, lectures, and conference presentations. Among these, the most significant papers and research interests are dysphagia rehabilitation in opercular syndrome in patients with stroke, aortic atherosclerosis, inflammation and stroke, stroke incidence, gender differences and stroke, stroke in women, homocysteine and stroke, patent foramen ovale and stroke, Takatsubo cardiomyopathy and transient general amnesia, and cerebral vasculitis. She was recently selected to be included in the Marquis Who's Who in America publication for outstanding achievements in the field. Dr. Petrea is a member of the American Heart Association/American Stroke Association, American Medical Association, the American Academy of Neurology, the European Stroke Association, the World Stroke Organization, the Framingham Heart Study, Massachusetts Medical Society, the Kentucky Neurological Society, the Romanian Stroke Association, and the Romanian College of Physicians. In her leisure time, Dr. Petrea travels, enjoys art and music, figure skating, water sports, and fine dining. Dr. Petrea has ascended a successful career path, she is an excellent clinician, neurologist, a top vascular neurologist, an innovative researcher, and a clinical and epidemiological scientist.
About Strathmore's Who's Who
Strathmore's Who's Who publishes an annual two thousand page hard cover biographical registry, honoring successful individuals in the fields of Business, the Arts and Sciences, Law, Engineering and Government. Based on one's position and lifetime of accomplishments, we honor professional men and women in all academic areas and professions. Inclusion is limited to individuals who have demonstrated leadership and achievement in their occupation, industry or profession.