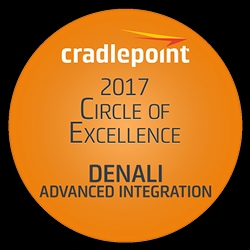 Redmond, WA, May 02, 2018 --(
PR.com
)--
Denali Advanced Integration
, a global leader in delivering enterprise IT, today announced that
Cradlepoint
the global leader in cloud-delivered 4G LTE network solutions has awarded Denali with the Circle of Excellence Award. The award was presented to Denali at the annual 2018 Cradlepoint Global Partner Summit held in Scottsdale, Arizona.
Cradlepoint's Partner Awards recognize excellent performance and significant achievements of its global partners. Each partner recognized demonstrated exceptional year-over-year growth and a continued investment in Cradlepoint solutions.
"Denali is honored to receive this recognition from Cradlepoint, a technology leader and an important global partner," said Majdi Daher, CEO and Founder of Denali. "The wireless network is so critical to the success of global enterprise organizations and they need reliable solutions. Cradlepoint's innovative technology combined with Denali's proven global services is making it easier for our clients to expand their operations around the world."
"Cradlepoint is at the forefront of a rapidly growing market for software-defined wireless WANs built on advanced 4G and 5G cellular services," said Tony Puopolo, VP North American channels and alliances at Cradlepoint. "Our partners are the key to our success and we are proud to honor a diverse ecosystem of resellers, distributors, and other partners as we congratulate them on outstanding accomplishments."
About Denali Advanced Integration
Denali Advanced Integration delivers Enterprise IT solutions and services, powered by strategic experts and best of breed technologies to help guide our clients through the most complex IT challenges. For more than 25 years, Denali has been one of the most trusted and prominent technology providers in North America, providing a comprehensive set of technology solutions to enable our customers to grow, maintain and expand their business globally. Learn more at www.Denaliai.com.
About Cradlepoint
Cradlepoint is the leader in cloud-delivered 4G LTE networks solutions that provide a pathway to 5G for branch, mobile and IoT networks. Cradlepoint Elastic Edge™ is powered by the NetCloud services platform and provides a blueprint for pervasive, software-driven wireless WANs that connect people, places and things everywhere with complete visibility, security and control. More than 20,000 enterprise and government organizations around the world — including 75 percent of the world's top retailers, 50 percent of the Fortune 100 and 25 of the largest U.S. cities — rely on Cradlepoint to keep critical branches, points of commerce, field forces, vehicles, and IoT devices always connected and protected. Major service providers use Cradlepoint wireless solutions as the foundation for innovative managed network services. Learn more at cradlepoint.com.