PINC Selected by Inbound Logistics Magazine to Its 2018 List of Top Logistics Technology Providers
PINC named 2018 Top 100 Logistics IT provider for creating a ripple effect of efficiencies across the entire value chain.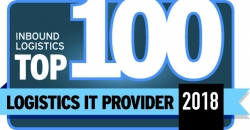 Union City, CA, May 08, 2018 --(
PR.com
)--
PINC
, the number-one provider of
yard management system
,
finished vehicle logistics solutions
, and
warehouse drones
for inventory management to the world's largest brands, has been selected Top Logistics IT provider by Inbound Logistics magazine in 2018.
Every April, Inbound Logistics editors recognize 100 logistics IT companies that support and enable logistics excellence. Drawn from a pool of more than 300 companies, using questionnaires, personal interviews, and other research, Inbound Logistics selects the Top 100 Logistics IT Providers who are leading the way in 2018. Editors seek to match readers' fast-changing needs to the capabilities of those companies selected. All companies selected reflect leadership by answering Inbound Logistics readers' needs for scalability, simplicity, fast ROI, and ease of implementation.
In this rapidly changing environment, the only way to stay competitive, drive superior performance, and better serve consumers is by fusing automation and investment in digital technologies. By combining innovative technology including cloud computing, internet of things (IoT), drones, and mobile, PINC offers a digital supply chain experience that is real-time, data-driven, automated, integrated, and connected.
"When choosing the 2018 Top 100 Logistics IT Providers, Inbound Logistics editors looked at excellence in optimizing supply chain, logistics and transportation operations. Strategically, editors make their selections based on how transformative solutions impact those business activities driving integration across internal and external business processes," said Felecia Stratton, Editor, Inbound Logistics. "PINC was selected because its solutions solve specific logistics challenges and improve processes, and create a ripple effect of efficiencies across the entire value chain."
"As shippers, carriers, and third-party logistics companies are having to move faster because of consumers demands, our solutions are enabling our customers to gain accuracy, visibility, control, and deliver on consumers' expectations," said Matt Yearling, CEO of PINC. "This recognition validates that PINC and our customers are in the right track."
About PINC
PINC provides scalable software, hardware, and services that enable companies to identify, locate, and orchestrate inventory throughout the supply chain predictably and cost-effectively. The company's cloud-based real-time asset tracking platform, powered by an Internet of Things (IoT) sensor network that includes passive RFID, GPS, optical, cellular, and other sensors, provides actionable insights and connected expert guidance that allow companies to optimize their supply chain execution. Learn more about PINC at
www.pinc.com
.
About Inbound Logistics
Since its inception in 1981, Inbound Logistics' educational mission is to illustrate the benefits of demand-driven logistics practices, give companies the knowledge to help them match the inbound flow of materials to their demand, and align their business process to support that shift. Inbound Logistics offers real-world examples and decision support to guide businesses to efficiently manage logistics, reduce and speed inventory, and offset rising transport costs, supporting business scalability across their value chain. More information about demand-driven logistics practices is available at www.inboundlogistics.com.
Contact
PINC
Rafael Granato
510-474-7500
www.pinc.com

Contact