The Legendary Bonnie Pointer Honored on the Reuters Billboard and in P.O.W.E.R. Magazine by P.O.W.E.R. (Professional Organization of Women of Excellence Recognized)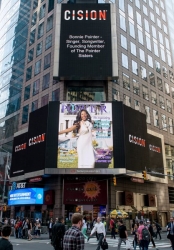 Manhasset, NY, May 22, 2018 --(
PR.com
)-- Bonnie Pointer has been honored on the famous Reuters Billboard and in P.O.W.E.R. Magazine by P.O.W.E.R. (Professional Organization of Woman of Excellence Recognized) for her outstanding contributions and achievements in the fields of music and entertainment.
About Bonnie Pointer
Patricia "Bonnie" Pointer was born on July 11, 1950 in Oakland, California. She's the second youngest member of the hugely popular and successful Soul/R&B group, The Pointer Sisters. Bonnie began singing in the choir of her father Reverend Elton Pointer's church. She also sang with her youngest sister June as a teenager. In 1969 Bonnie founded The Pointers (otherwise known as The Pair). After her sister Anita joined the duo that same year, they changed their name to The Pointer Sisters and recorded several singles for Atlantic Records between 1971 and 1972. In December 1972, they recruited oldest sister Ruth and released their debut album as The Pointer Sisters in 1973. Their self-titled debut yielded the hit "Yes We Can Can." Between 1973 and 1977, the Pointers' donned 1940's fashions and sang in a style reminiscent of The Andrews Sisters. They also melded the sounds of R&B, funk, rock and roll, gospel, country and soul.
Anita and Bonnie wrote the group's crossover country hit, "Fairytale," in 1974, which also became a Top 20 Pop hit and won the group their first Grammy for Best Vocal by a Duo or Group, Country. Bonnie and Anita also were nominated for Best Country Song at the same ceremony. In 1977, Bonnie left the group to begin a solo career. She co-wrote the song "Bring Your Sweet Stuff Home to Me" for Stevie Wonder's album "Having a Party."
In 1978, Bonnie signed with Motown and released "Heaven Must Have Sent You," which reached No. 11 on the Billboard Hot 100 chart. She released three solo albums, including two self-titled albums for Motown, before retiring from the studio. Bonnie later appeared on Soul Train on March 2, 1985. She still continues to perform, and has reunited with her sisters on two separate occasions: when the group received a star on the Hollywood Walk of Fame in 1994, and during a Las Vegas performance in 1996 singing "Jump (for My Love)."
In 2008, Bonnie embarked on a European tour. She ended the year by performing at the Trump Taj Mahal in Atlantic City on Saturday, October 25, 2008. She also starred in Monte Hellman's 2010 romantic film thriller "Road to Nowhere." To date, she continues to perform all over the country and has appeared at several Gay Pride celebrations throughout the United States. During this time, she has continued to work on her autobiography.
In December 2016, "Billboard Magazine" ranked the Pointer Sisters as the 80th most successful Dance Artists of all-time. In December 2017, they also ranked them as the 93rd most successful Hot 100 Artist of all-time and as the 32nd most successful Hot 100 Women Artist of all-time.
The Pointer sisters are currently collaborating with Melissa Simpson, Owner and Designer of the BlaNk Studio in Los Angeles, California to design a new fashion clothing line based on their vintage costumes and dress collection of show pieces they wore on stage. They are also designing a toy line together for girls of all ages which promotes the empowerment of sisterhood through music.
About P.O.W.E.R. (Professional Organization of Woman of Excellence Recognized)
P.O.W.E.R.'s mission is to provide a powerful network of women who will mentor, inspire and empower each other to be the best they can be. Through our valuable services, and collaborating with like-minded professionals, our members can gain the recognition and exposure to achieve their career goals. P.O.W.E.R. offers exposure through their website as well as their digital and print quarterly magazine.
Contact
P.O.W.E.R. (Professional Organization of Women of Excellence Recognized)
S. K. Koop
516-365-3222
www.powerwoe.com
Ellen Gold

Contact